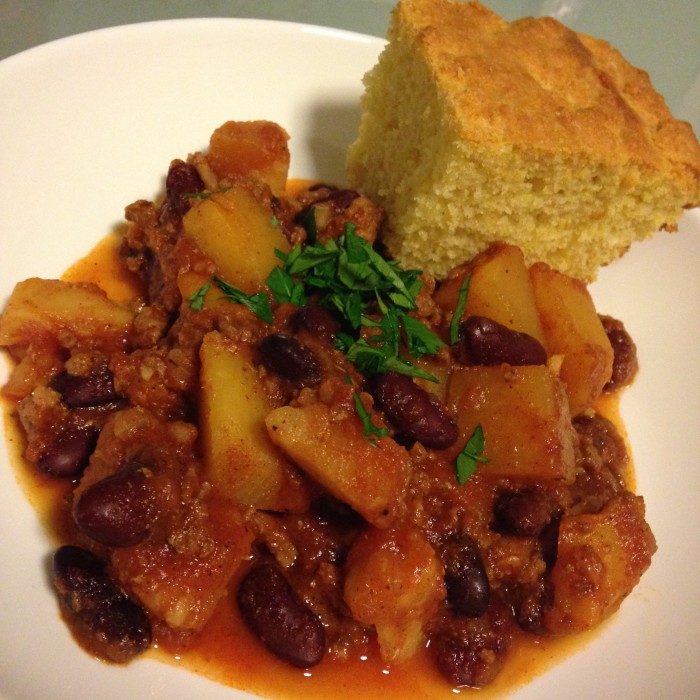 Rutabagas always remind me of playing Super Mario Brothers 2 with my siblings and cousins in the 80's and 90's. There was a weird looking vegetable you had to pull out of the ground to throw at your enemies. My cousin pointed out that it looked like a rutabaga and so that's what they've always been to us -rutabagas. (I still play every now and then because it's the best game EVER). Other than throwing rutabagas at enemies and cooking chunks of them in a stew, I don't know if I've used them any other way. Sometimes my 10 year old and I pick out weird and unusual produce at the grocery store to make our trips a bit more exciting – yup, we're totally lame. This week, he picked out a rutabaga and although there are a few people I'd like to throw it at, I came up with this deliciously hearty, kick-winter-in-the-face, healthy chili instead.
Turkey, Celery Root & Rutabaga Chili
 1 Tbsp. olive oil
1 pound ground turkey (preferably organic)
1 large onion, diced
4 cloves garlic, minced
1 medium rutabaga, peeled and diced into 1/2 inch cubes
1 medium celery root, peeled and diced into 1/2 inch cubes
1 red, orange or yellow bell pepper, roughly chopped
1 (660 ml) jar tomato passata plus 1 jar full of water
2 Tbsp. mild chili powder
2 tsp. honey
1 tsp. dried oregano
1 tsp. cumin
1/8 tsp. cinnamon
1/8 tsp. chipotle powder or cayenne (optional)
1 (540 ml) can of kidney beans, drained and rinsed
Garnish: chopped parsley or sliced green onions (optional)
In a large pot over medium-high heat, brown the ground turkey in the olive oil. Add the onion and garlic and cook until softened a bit. Add the rest of the ingredients, except the kidney beans and garnish, and stir to combine. Bring the mixture to a boil, reduce heat and simmer partially covered for 1 hour (stirring occasionally). Add the kidney beans, partially cover and simmer for another 30 minutes (stirring occasionally). Add salt to taste. Serve over rice or with a side of fresh cornbread if you like with a bit of chopped parsley or green onion to garnish.