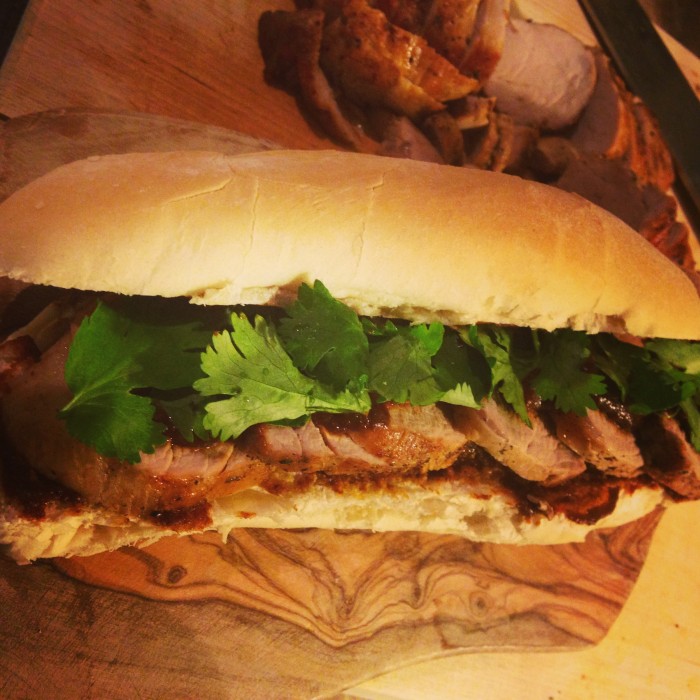 Recently, at Parkdale Food Centre where I am a regular volunteer cook, Louise (my trusty PFC kitchen sidekick) and I were asked to make a simple lunch for a team of Home Depot employees and volunteers. They were coming over to help install a wall of much needed built-in shelves for the centre to get rid of our cluttered open shelving that has been a temporary solution since we moved into our new Rosemount Ave. location back in December.
Every regular day that we cook at the centre, we never really know what fresh or donated ingredients we are going to have. We are aspiring to be a zero waste facility where we cook meals for our neighbours using up fresh donations, odds n' ends and produce (that we would normally give out fresh) that is on its last leg. It's completely typical for us to feel like we are on an episode of Chopped when we arrive each morning. This is exactly what I love about it! How are we going to use up 20 wrinkly eggplants, all these donated naked grapefruits from local brewing companies or loaves of stale fancy bakery bread? Get to work on some prep while thinking creatively – that's how!
Louise and I decided on the phone the night before the shelving installation day to just do what we always do – arrive early, see what we have to use and create a meal. Why did we need to complicate it or go out and buy anything? It's what we are used to doing and we have amazing ingredients to work with all the time.
So, what did we make?
a few loaves of banana bread using up some brown bananas for a mid-morning snack to have with coffee
a roasted tomato soup using up some frozen roasted tomatoes from tomatoes we had gleaned at Rideau Pines Farm back in October
oven baked grilled cheese sandwiches using up some leftover cheese from cooking classes and donated Bridgehead bread from our freezer
as well as some pork sandwiches using up some precooked pork tenderloin we found in our freezer with an off-the-top-of-my-head chipotle espresso barbeque sauce on day old buns that were donated by Art-Is-In Bakery
for dessert, some poached pears using up some overripe pears that we topped with our house-made granola we give out to our neighbours
The pork sandwiches I made stole the show with their bold sauce and tender chunks of pork. I had some of our guests begging for the recipe, so I did my best to remember what I did.  Below is the recipe I recreated at home for supper one night and Jay and Ethan have requested it every night for supper since. The sauce one its own is quite powerful, but paired with the simple roasted slightly sweet pork tenderloin is perfection.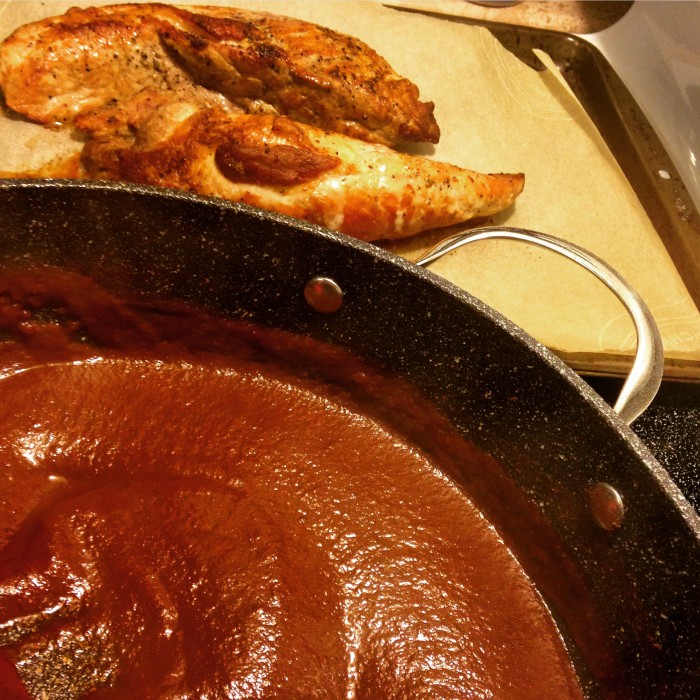 Chipotle Espresso Pork Tenderloin Sandwiches
For the pork tenderloin:
2 pork tenderloins (about 1 pound/454 grams each)
1 Tbsp. vegetable oil
salt and freshly ground black pepper
For the sauce:
1 Tbsp. butter
1 onion, chopped
2 cloves garlic, minced
1 cup tomato passata or canned crushed tomatoes
1 1/2 cups chicken broth
1/3 cup packed brown sugar (I use dark)
a double shot (2 oz) of freshly brewed espresso
2 Tbsp. mild chili powder
2 Tbsp. apple cider vinegar
1 Tbsp. molasses (I use blackstrap)
1 Tbsp. cumin
1 tsp. cinnamon
1 tsp. garlic powder
1/8 tsp. chipotle powder (mine is pretty bold & spicy, so a little goes a long way)
pinch of cayenne
For the assembly:
6 Portuguese style buns, sausage buns or mini baguettes, halved lengthwise
a small bundle of fresh cilantro or parsley (rinsed and towel-dried)
Preheat the oven to 400 degrees F. Line a baking sheet with parchment paper. Set aside.
Sprinkle the pork with some salt and freshly ground pepper. Heat the vegetable oil in a large frying pan over medium-high heat. Add the pork and brown on all sides.
Place the browned pork onto the prepared baking sheet. Bake for 20-30 minutes or until the internal temperature reaches between 145-160 degrees F in the thickest part of the meat. I like mine cooked through to 160 degrees F as it still remains quite tender, but it is safe to eat with a very slight pink in the middle if the thickest part of the meat has registered 145 degrees F. Let the meat rest for 10-15 minutes and then slice it into 1/4 inch slices.
While the pork is on the oven, make the sauce. In a medium saucepan, melt the butter over medium-high heat. Add the onions and cook until lightly golden brown. Add the minced garlic and cook for another minute. Add the rest of the sauce ingredients and bring the mixture to a boil. Reduce the heat and gently simmer (uncovered) for 25 minutes, stirring occasionally. Using an immersion blender, blend the sauce until smooth. Check the sauce for seasoning. I added about 1/2 tsp. of salt at this point, but depending on the amount of salt in the chicken broth, tomatoes and chili powder you use, this can vary.
Spread a thin layer of the warm sauce onto the cut sides of each bun. Lay some slices of the cooked pork on each bun. Spoon a bit more of the warm sauce over the pork. Rip a small handful of leaves off of the cilantro (or parsley) to top each sandwich. Makes 6 sandwiches.