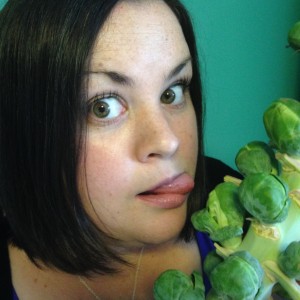 It all comes back to the kitchen for Sarah Stewart; while she loves her little family, coffee, her Keeshond (Maeby), coffee, her Maine Coon (Nigel), and coffee, she just can't seem to stay out, or keep it out of everything else. Even her hobbies of volunteering in a local food bank's kitchen and terrible photography seem to revolve around food!
On occasion, she can also be observed supply teaching in elementary schools, "Sarah-nading" her people or pets, coming up with clever (foolish) nicknames for her people and pets, leaving 5,000 tabs open in her web browser at all times and taking herself very seriously. Oh yeah, and she's pretty sure she hasn't mentioned her love for coffee yet.
Even while writing this, she has quietly ventured around the corner into her kitchen a dozen times to think about lunch or supper or coffee or when she should make those chocolate-dipped biscotti she promised to make. The stealthy works of a true kitchen addict who will do just about anything to get her fix, or get out of talking about herself. She can currently be seen scooping up leftover Bolognese sauce with pieces of garlic naan bread in what she calls a "thinking snack" that she picked up during her last hit.
All seriousness aside, she writes approachable, yet creative recipes using whole, seasonal ingredients whether it's for a weekday meal, a dinner (or cooking) party or just because. She's not going to lie to you and say that a picture-perfect homemade lasagna is easy peasy for a Monday "parent-teacher interview night" supper. It's just not, Pinterest!  Different days of the week require different approaches to cooking a meal, but can be mouth-watering and homemade nonetheless.
Sarah's mission with Sometimes You Need to Cook is to help get homemade dinners on the table more often by sharing her user-friendly recipes that are continuously tested in her own laboratory using her very own guinea pigs. Since she is not a trained chef, doesn't actually own a lot of kitchen gadgets and writes for the home cook, any panic zones that may arise, special instructions or tips are included in the recipe's method or on her OR LEARN page, where Sarah records all of the horrible mistakes you won't need to make.
Follow her on Insta-ma-gram (warning: may contain cute kid, cat & dog pics), Facebook and Twitter because sometimes you need to cook quickly, sometimes you need to cook for company, sometimes you need to cook meatless, sometimes you need to bake and sometimes you need to learn.
She can be found in her kitchen in Ottawa, ON.