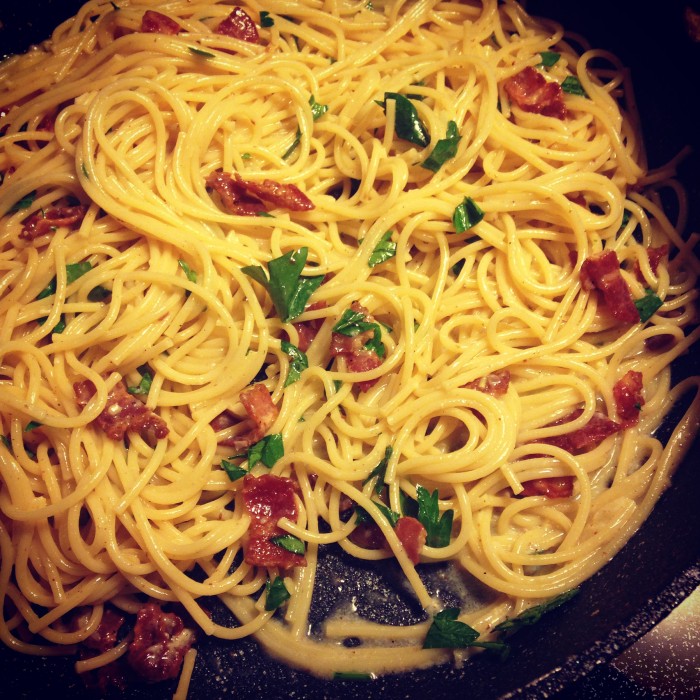 Spaghetti alla Carbonara is the bacon and eggs of Italy. It's a quick, creamy pasta that makes a comforting weekday or lazy weekend meal that you will want to make again and again.
Spaghetti alla Carbonara
For 6
2 eggs plus 1 egg yolk
3/4 cup grated parmesan cheese, plus more for topping
1/4 tsp. freshly ground black pepper
1 454 grams/1 pound box of spaghetti
1 tsp. butter
10 thin slices (about 100 grams) of pancetta OR bacon, sliced into small strips
2 cloves garlic, minced
1/4 cup roughly chopped fresh parsley
Crack the eggs into a medium bowl, add the extra egg yolk and whisk with a fork. Add the parmesan cheese and whisk until smooth. Stir in a pinch of salt and the black pepper. Set aside.
Bring a large pot of water to a boil, salt it well and add your spaghetti. Cook until al dente as per package directions.
As your pasta is cooking, add the butter to a large frying pan and melt over medium heat. Add the pancetta or bacon and fry until brown and crispy. When the pasta is 2 minutes away from al dente, add the garlic to the bacon and soften it a bit.
When the pasta is al dente, use tongs or a spaghetti server to drain and transfer the pasta to the frying pan with the bacon. Set aside about 1/2 cup of the pasta water to loosen the sauce later. Using the tongs or spaghetti server, coat the spaghetti with the pancetta or bacon grease and then remove the pan from the heat.
With the pan of pasta off the heat but still hot, add the egg and parmesan mixture while mixing constantly for a minute or 2.  You want the residual heat from the pasta to gently cook the egg making a creamy sauce, but if it's too hot, the egg will scramble. Use a bit of the pasta water to thin the sauce out a bit.
Add the chopped parsley and stir. Serve immediately with a bit more parmesan cheese grated on top.