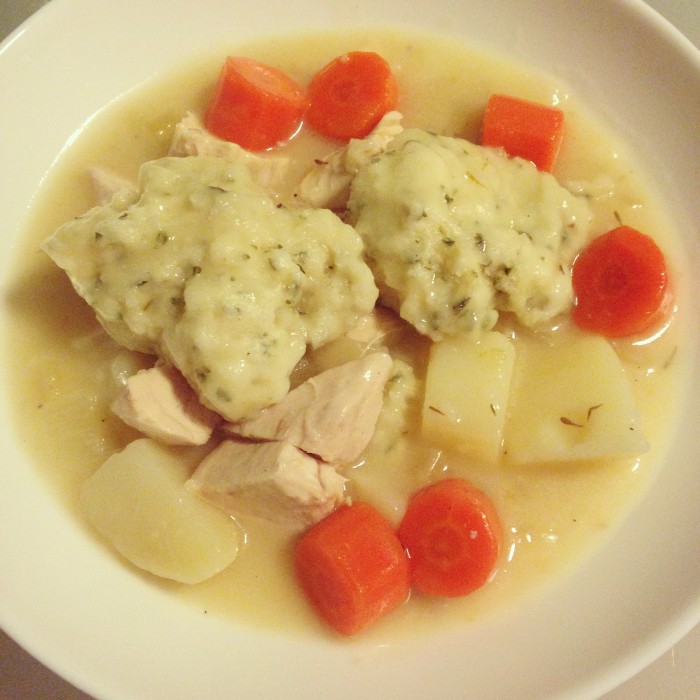 In our house, when we are cold, we "taco" ourselves. Yes, taco is a verb. It really just means that we wrap ourselves up in our favourite fuzzy blanket to keep the cold out. Annnnnnnd let's be honest, it's usually just me who is cold, so it's just me who is tacoed and who mostly calls it tacoeing. It's catching on though, I promise.
My point is, when it's a bone-chillingly cold blizzard outside and you need to taco yourself when you get home, it's probably a good idea to make this chicken stew for supper. It tacoes your insides while you are tacoeing your outside.
Chicken Stew with Dumplings 
For the chicken stew:
2 fresh boneless skinless chicken breasts or 4 boneless, skinless chicken thighs
4 cups chicken stock
3 medium carrots, peeled and cut into 1-inch chunks
3 medium potatoes, peeled and cut into 1-inch chunks
3 Tbsp. butter
1 large stalk of celery, finely chopped
1 small onion, finely chopped
1/4 cup flour
1 tsp. fresh thyme leaves or 1/4 tsp. dried thyme leaves
For the dumplings:
1 cup cake & pastry flour (you can use all-purpose flour, but the dumplings will be denser)
1 Tbsp. chopped fresh parsley (or 1 tsp. dried parsley)
2 tsp. baking powder
1/2 tsp. salt
1 Tbsp. cold butter
1/2 cup milk
For the chicken stew: To poach the chicken, place the chicken breasts (or thighs) in a medium pot and cover them with the chicken stock. Bring to a boil, cover and gently simmer over low heat for 12 minutes. Take the pot off the heat, keep it covered and let the chicken sit in the hot stock for 20 minutes. Take the chicken out of the stock (reserve the stock) and cut into 1 inch pieces. Place the chicken on a plate and cover it to keep it warm. Set aside.
Add the potatoes and carrots to the reserved stock, bring to a boil and simmer over medium-low heat for 10-12 minutes. The vegetables should be just fork tender. Transfer the vegetables to a plate, set aside and reserve the stock again.
In a medium pot or Dutch oven, melt the butter over medium-high heat. Add the onions and celery and cook until softened. Add the flour and the thyme to the pot with a bit of salt and pepper and cook for a minute or 2. While whisking, slowly add in the reserved stock, bring to a boil and simmer over medium-low heat for 5 minutes to thicken it a bit.
Add the chicken and vegetables to the pot and check for seasoning. Return the stew to a simmer.
For the dumplings: In a medium bowl, combine the flour, parsley, baking powder and salt. Cut the cold butter in with a pastry cutter or 2 knives until there are small pea-sized pieces of butter throughout the flour mixture. Pour in the milk and stir just to combine. Drop the dumplings by tablespoonfuls onto the simmering stew. Make sure to leave a bit of space between each dumpling. Cover the pot and simmer for 15 minutes without removing the lid. Serves 4.