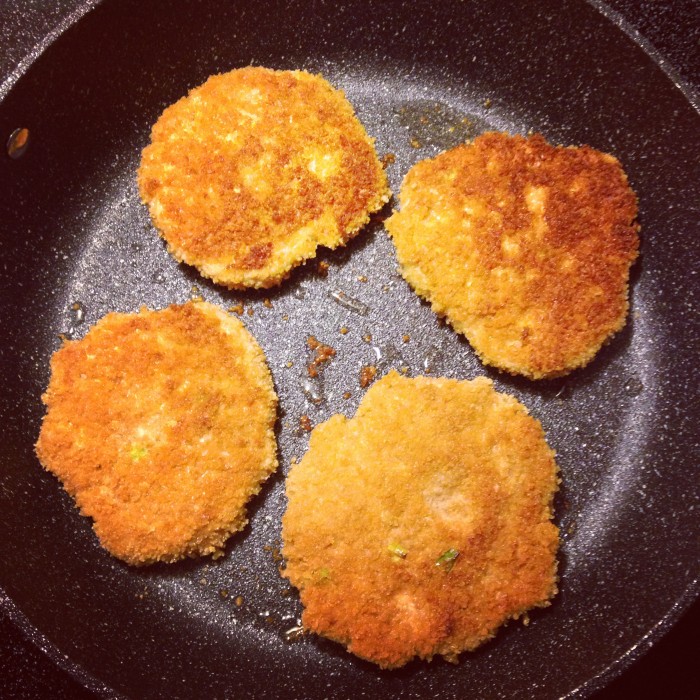 You'll definitely want to have this recipe in your bag of tricks! These delicious crispy chicken burgers are almost as quick as the pre-made frozen ones, super easy to make, kid-friendly and have just the right amount of spice. Plus, you are in control of what goes into them (and what doesn't), so you know exactly what you're feeding your family.
Make this recipe and enjoy seeing all those super satisfied "burger faces" around your table.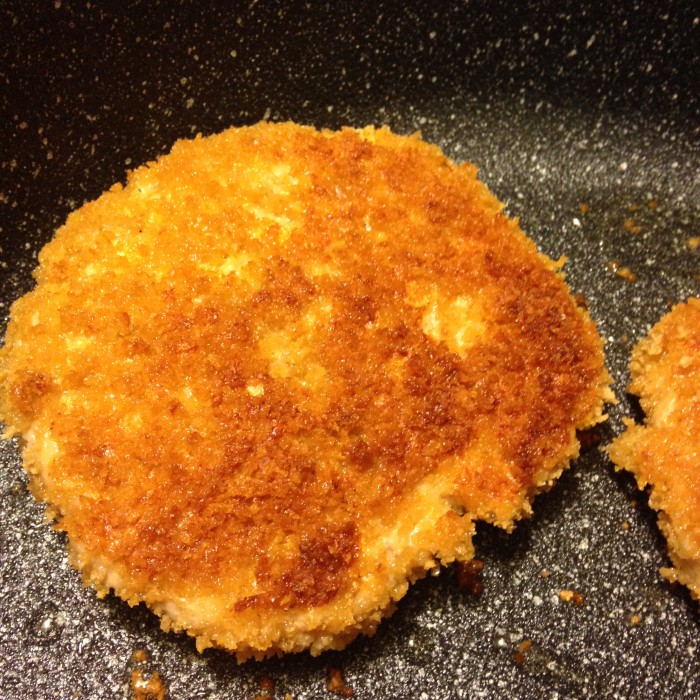 Crispy Sriracha Chicken Burgers
For 4
3/4 cup panko bread crumbs
1 slice of white or whole wheat sandwich bread, crust removed
2 Tbsp. milk
1 pound ground chicken, preferably organic
1 Tbsp. Sriracha or your favourite hot sauce (for a milder chicken burger use BBQ sauce or honey mustard instead)
2 green onions, both white & green parts thinly sliced OR 2 Tbsp. chopped fresh chives
1/2 tsp. salt
1/4 tsp. pepper
2 Tbsp. coconut oil
Heat your oven to 350 degrees F. Line a baking sheet with parchment paper.
In a shallow bowl or pie plate, add the panko bread crumbs. This will be used to coat the burgers before frying. Set aside.
Tear the sandwich bread into small pieces, place in a medium bowl and drizzle with the milk. Mash the milk and bread together with a fork until it's a paste. Add the ground chicken, Sriracha, green onions, salt and pepper to the bowl. Wet your hands a bit to avoid sticking and then using your hands, mix the ingredients together until just combined. The mixture will be sticky and wet. Divide the mixture into 4 equal parts and form each part into a patty. Lightly wet your hands again if the mixture is sticking to them while forming the patties.
Coat each patty in the panko bread crumbs. Use your hands to gently press the panko onto the patties so that it sticks.
Heat the coconut oil in a large frying pan over medium-high heat. Fry the panko crusted chicken burgers for about 3-4 minutes per side or until golden brown. Transfer the burgers to the parchment lined baking sheet.
Bake the chicken burgers for about 7- 10 minutes or until cooked through (the internal temperature should read 185 degrees F).
I like to serve these chicken burgers on an onion bun with fresh baby spinach and a bit of mayo, but serve them up however you like!