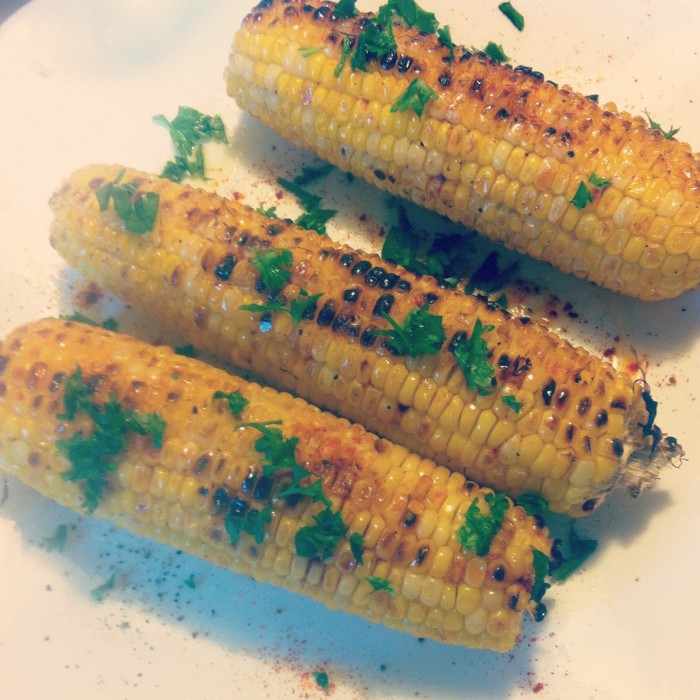 This recipe oozes summer. Sweet, toasted corn-on-the-cob dusted with deep red smoked paprika, and bright, fresh parsley that balances this perfect barbeque side dish out. Just easy, good food.
For 4
4 cobs of corn, husked and silk removed
3 Tbsp butter, melted
1/8 tsp. smoked paprika *see note (you could use sweet paprika instead, but it will change the taste)
2 Tbsp. chopped fresh parsley
Place the corn cobs in a large pot, cover with water and add about 1/2 Tbsp. of sea salt to the water. Bring to a boil, partially cover, reduce the heat a bit and simmer for 10 mins. I like to simmer corn just above medium heat to get a rapid simmer, but not a boil. Drain the corn.
Meanwhile get the BBQ hot over medium-high heat.
Once drained, on a plate brush each corn cob with some of the melted butter and sprinkle each with a bit of salt and pepper.
Place the corn cobs directly on the BBQ's top rack. If you don't have a top rack, reduce the heat a bit and watch more closely. Turn the cobs every once in a while to get a golden toast all over. Check on them frequently, as this goes quite fast. Remove from heat to a serving plate.
Brush each cob with more of the melted butter. Sprinkle each with a bit of the smoked paprika and chopped parsley. Serve immediately.
*Note: I buy my smoked paprika from Cardamom & Cloves on Preston Street in Ottawa. The owner, Jodi Samis, doesn't keep a lot of each spice on hand and you buy them by weight, which means you are getting the freshest available and only as much as you can use before the flavour fades and loses its punch. If you are in Ottawa, I highly recommend checking out her store!