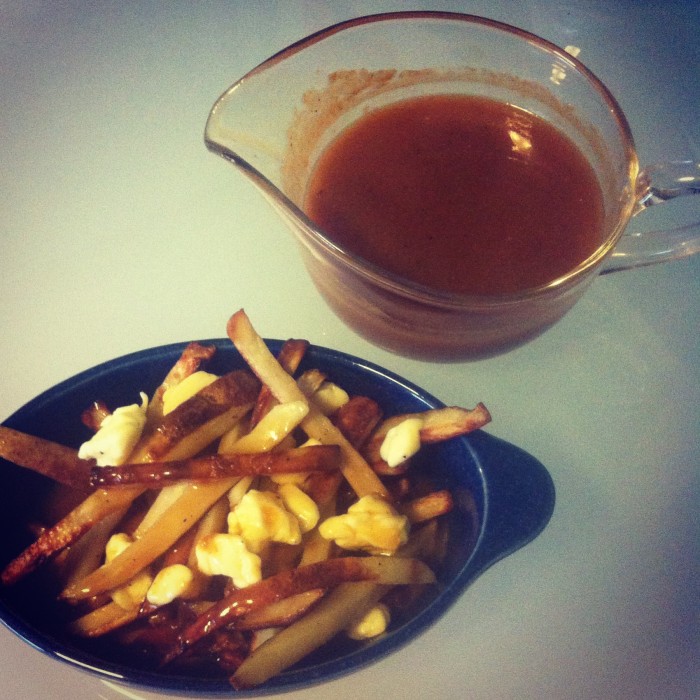 Rumour has it at the restaurant I used to waitress at (more than a decade ago), the cooks would put our old brewed coffee in their gravy. I have no idea if this was true because no one admitted it and I never witnessed anyone doing it. But, their gravy was always really, really good. Even if this cook's secret was false, it just always sounded like a great idea to me (the use of coffee – not old, stale coffee of course).
This sauce was inspired by that rumour. It is bold, uniquely flavourful, non-traditional and surprisingly easy to make. (*see note below to make traditional poutine sauce using this recipe).
Using a coffee you like to drink is important since the flavour really comes out in this sauce. Kind of like wine, if you use a coffee you don't really like, you probably won't really like the flavour of the sauce.
Nutmeg pairs well with coffee, but don't use the pre-ground kind. Freshly grated nutmeg has a distinctive peppery taste that is missing in the pre-ground version and an important flavour in this sauce.
I guess that wasn't a bad rumour to be spreading around.
Coffee & Nutmeg Poutine Sauce 
1/2 a small onion, chopped
1 small clove of garlic, chopped
3 cups chicken stock
1 1/2 cups freshly brewed coffee
2 tablespoons ketchup
1 tablespoon real maple syrup
1/2 tablespoon worcestershire sauce
1/4 tsp. freshly grated nutmeg (do not use pre-ground as it loses its distinctive peppery taste and that is important in this sauce)
a pinch of ground cardamom
pinch of cayenne pepper (optional)
3 tablespoons butter
3 tablespoons flour
1/2 tsp. salt (since all chicken stocks are seasoned differently, add 1/4 tsp. first and taste it to see if you need to add the other 1/4 tsp.)
1/2 tsp. freshly ground black pepper
In a medium pot, heat the olive oil on medium heat and sauté the onions until they are a bit golden along the edges. Add the garlic to the pot and sauté for another minute or 2 (being careful not to over-brown the garlic). Add the chicken stock, coffee, ketchup, maple syrup, worcestershire sauce, nutmeg, cardamom and cayenne (if using). Bring this mixture to a boil and keep at a simmer.
Meanwhile to make the roux, melt the butter in a separate medium pot over medium heat. Add the flour and whisk. Cook until it is slightly brown and nutty smelling (about 2 minutes).
While you are whisking the cooked roux, slowly add the simmering liquid. Bring to a boil, reduce the heat a bit and simmer for about 20 minutes or until it's thick and has reduced. Whisk the sauce every few minutes or so.
Strain the sauce into another medium pot (you can use the pot your liquid was simmering in) to remove the onion, garlic and any lumps. This will give you a silky smooth sauce and texture is key in poutine.
Season the sauce with the salt and freshly ground black pepper.
Keep the sauce warm on low heat until ready to use.
I like to make homemade oven fries topped with cheese curds with the poutine sauce on the side in a gravy boat for each person to drizzle on themselves.
*Note: To make traditional poutine sauce, replace the coffee with more chicken stock, omit the maple syrup, nutmeg and cardamom from this recipe and follow as outlined.