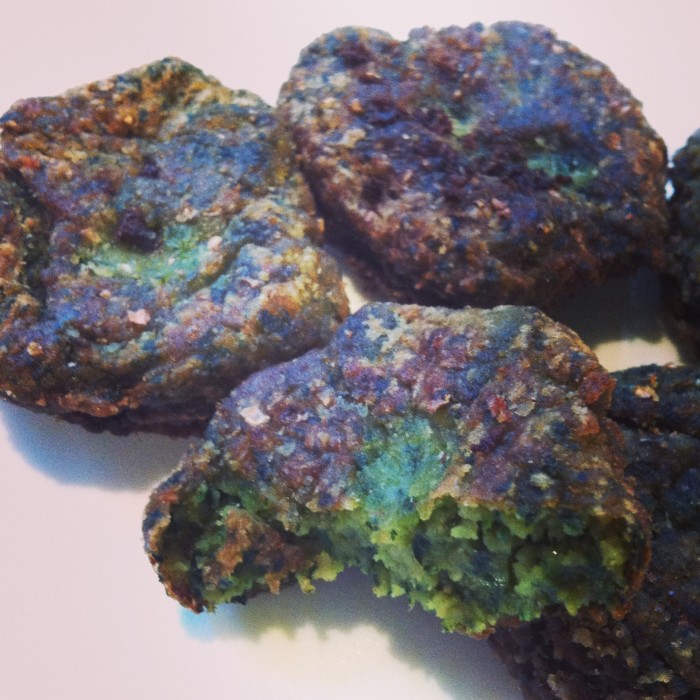 Falafels are a great spring/summer food. They are fresh, portable, great warm or cold, make unique additions to picnics and BBQs and are packed full of flavour and nutrients.
The addition of dinosaur kale in this recipe adds a vibrant green colour to the falafels, plus it's a great way to add more leafy greens to your meal. It is sometimes called lacinato kale, Tuscan kale, Tuscan cabbage, Italian kale, or cavolo nero and can be usually be found at farmers' markets and some grocery stores.
I like to call it dinosaur kale because it really does look like dinosaur skin with it's bumpy and super dark green leaves. My son thinks that's pretty cool (for a vegetable).
Dinosaur Kale Falafels
Adapted from Canadian Living Cooks: 185 Showstopping Recipes from Canada's Favourite Cooks Cookbook
1 small bunch of dinosaur kale, washed and ribs removed (about 3 loose cups uncooked)
1/2 cup bulgur
1 (19 oz can) of chickpeas, drained and rinsed
2 cloves garlic, peeled
1/4 of a small onion, peeled (or 2 green onions, trimmed)
1/3 cup plain bread crumbs (or panko)
1/4 cup fresh parsley
1 egg
1 Tbsp. lemon juice
1-2 tsp. hot sauce (any kind you like)
1 tsp. ground cumin
1 tsp. ground coriander
1 tsp. salt
1/4 tsp. pepper
1/2 cup flour (plus more for coating before frying)
2 tsp. baking powder
Vegetable oil for pan frying
In a small pot, bring 1 cup of water to a boil. Add a pinch of salt and the bulgur to the boiling water and stir. Remove it from the heat, cover it and let it stand for 20 mins. Fluff with a fork and if there is any excess water in the pot, drain it as best you can so that it doesn't make your falafels soggy. Set aside to cool to a bit.
Meanwhile, steam the dinosaur kale for about 5 mins. It should be dark green and wilted (see picture below), but not mushy. Set aside to cool a bit.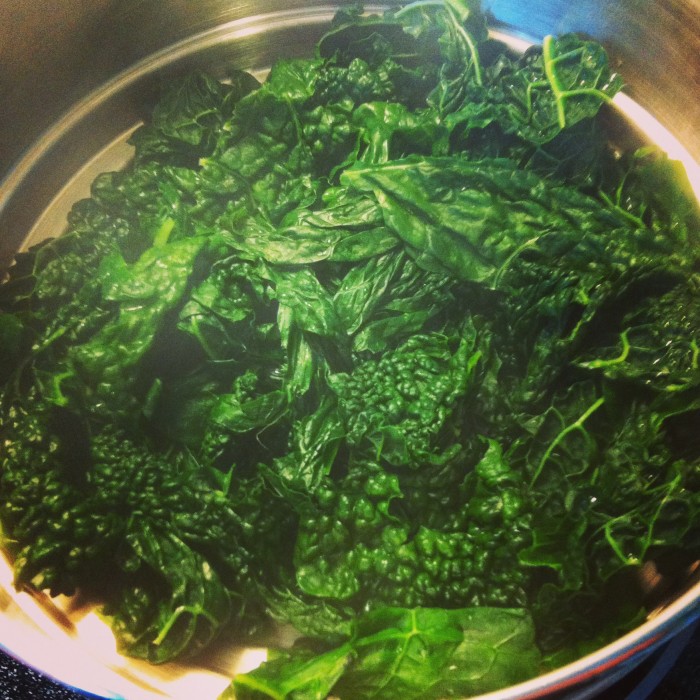 In a food processor, combine the drained and rinsed chickpeas, garlic, onion, bread crumbs, parsley, egg, lemon juice, hot sauce, cumin, coriander, salt, and pepper. Pulse a few times. Add the steamed dinosaur kale, and cooked bulgur and process until the mixture is all combined. Add the 1/2 cup of flour and the baking powder to the mixture and pulse until it is incorporated. In my opinion, the flour and baking powder help to lighten and puff up the falafels once cooked.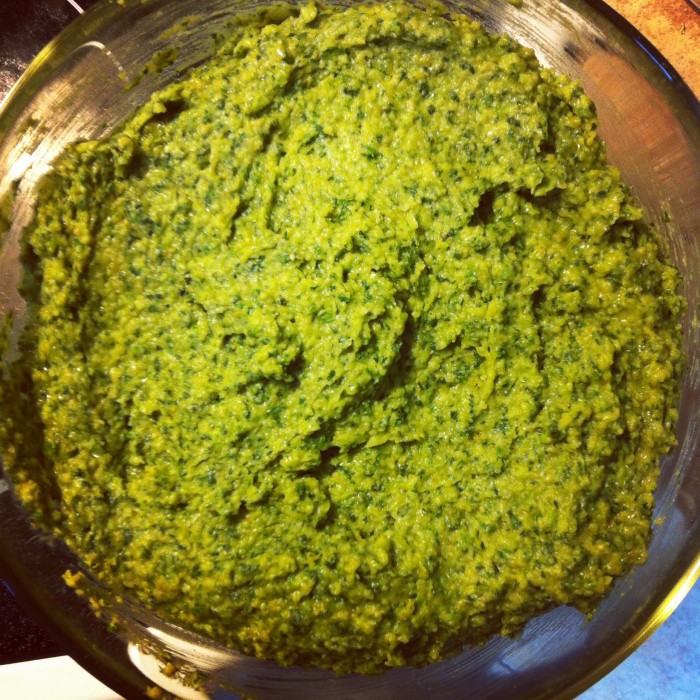 Transfer falafel mixture to a bowl, cover and refrigerate the mixture for at least 1 hour. This makes the mixture easier to shape and pan fry.
Sprinkle some flour and a pinch salt on a medium sized plate and set aside. Before frying, each falafel patty will be dusted with this mixture.
When you are ready to cook the falafels, coat the bottom of a large frying pan with vegetable oil. You should have a good layer of oil to fry the falafels. I would start with about 4 Tbsp. and add more as needed. Heat the oil over medium-high heat.
Meanwhile, take the falafel mixture out of the fridge. Using about a Tbsp of the mixture, form 8-10 balls (or as many as you can fit in the frying pan without crowding) and then press the balls down a bit to make thick patties.
Right before frying, dust each formed patty into the flour/salt mixture on the plate.
Fry the patties on one side over medium-high heat, until they are brown around the edges. Flip them and then cook them until they are brown on the other side as well. As they are done, transfer them to a plate that is lined with a paper towel, so they can drain a bit. You can keep the finished falafels in a warm oven as the others are cooking.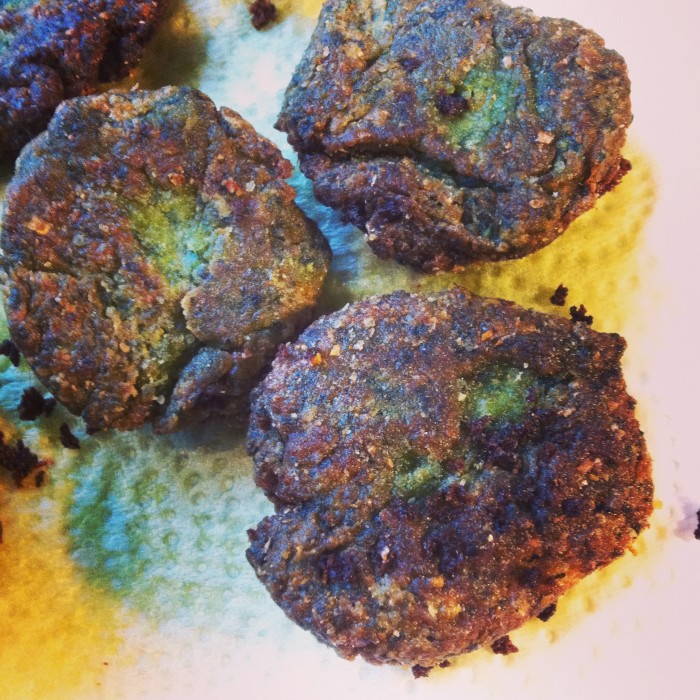 As one batch is cooking, get your next batch formed and dusted with flour so they are ready to go. You may need to add a bit more oil to the pan and get it hot again between batches.
I like to serve falafels in a half pita, with cucumbers, lettuce, dill pickles (or pickled turnips and/or pickled green beans) and tahini garlic dressing (recipe follows). If you live in Ottawa, any Top Shelf Preserves pickles would be excellent! Other toppings options are tomatoes, red onions (raw or sauteed with spices), cabbage or broccoli slaw, shredded carrots, fresh chopped parsley, and pickled hot peppers.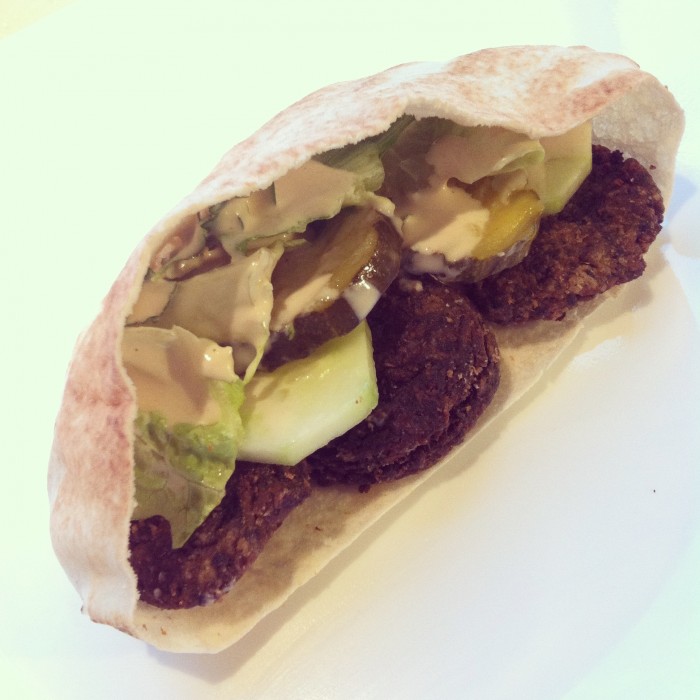 Tahini Garlic Dressing
This recipe came from the back of 'Prince' brand tahini. The recipe is as follows: Stir together equal parts tahini and cold water. Season to taste with some lemon juice, crushed garlic, salt and parsley. Blend until desired creamy consistency is reached.
Theses are the measurements I use:
1/2 cup tahini
1/2 cup cold water
the juice of one lemon (add the zest, too, if you like)
1 clove garlic, minced
1/4 cup roughly chopped fresh parsley
pinch of salt
The mixture will be thick and a bit separated at first. If you keep stirring, it will thin out and become smooth and creamy.