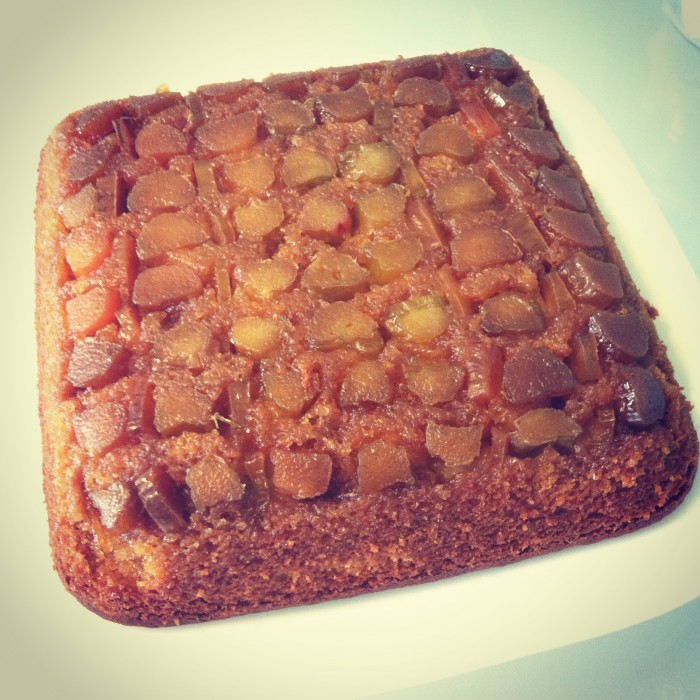 I LOVE pineapple upside down cake. It's one of my favourite desserts of all time. My dad would agree since he has requested it every year for his birthday since I can remember.
This week in my CSA box from Rochon Garden, I received 4 beautiful stalks of rhubarb. As a kid, I would pick stalks from my parent's garden, dip them in a bit of sugar and suck on them. I remember thinking it was a great treat! (I loved anything sour!) But, with 4 long stalks to use, I figured I had more than I could suck on (Ew?). So, I knew I was going to be baking something.
I started thinking of things I could bake it in. Muffins, breads, cookies, scones. All sounded good, but I wanted something different, something I've never had before. Then I thought of what other sour fruits rhubarb tastes like (even though it's considered a vegetable). To me, it's a bit like green apples, lemons or pineapples. As soon and I thought of pineapples, I thought pineapple upside down cake (obviously).
I realize I'm not the first one to think of this (I Googled it after-the-fact and there are a billion recipe variations including a stupidly perfect looking Martha Stewart version), but I was still happy to make something I hadn't heard of or tried yet.
The use of salted butter is important since rhubarb can take a bit of salt and it helps to balance out the sweetness of the cake. It's also important to use real vanilla extract since this recipe requires a full tablespoon and you can really taste it.
Rhubarb and vanilla are a classic flavour combination and combined with the caramelized butter and brown sugar, this makes a killer cake that's easy to make, but looks and tastes impressive.
Rhubarb Upside Down Cake 
Adapted from Robin Hood 
For the bottom (that will become the top):
1/3 cup salted butter, melted
3/4 cup brown sugar, packed
2 long stalks of rhubarb, cut into 1/4-1/2 inch slices
For the top (that will become the bottom):
1 3/4 cups all purpose flour
1 Tbsp. baking powder
1 tsp. salt
1/2 cup salted butter, softened
1 cup organic evaporated cane juice sugar (or white sugar)
2 eggs
1 Tbsp. real vanilla extract
3/4 cup whole milk
Preheat oven to 350 degrees F.
For the bottom (that will become the top): Pour the melted butter into an ungreased 8-inch square glass baking dish. Sprinkle it with the brown sugar and stir with a fork to combine. Place the sliced rhubarb on top of the sugar mixture. You can make a nice pattern if you like since it will show in the end (see picture below) or you can just throw it on top of the sugar mixture (it really doesn't matter too much). Set aside.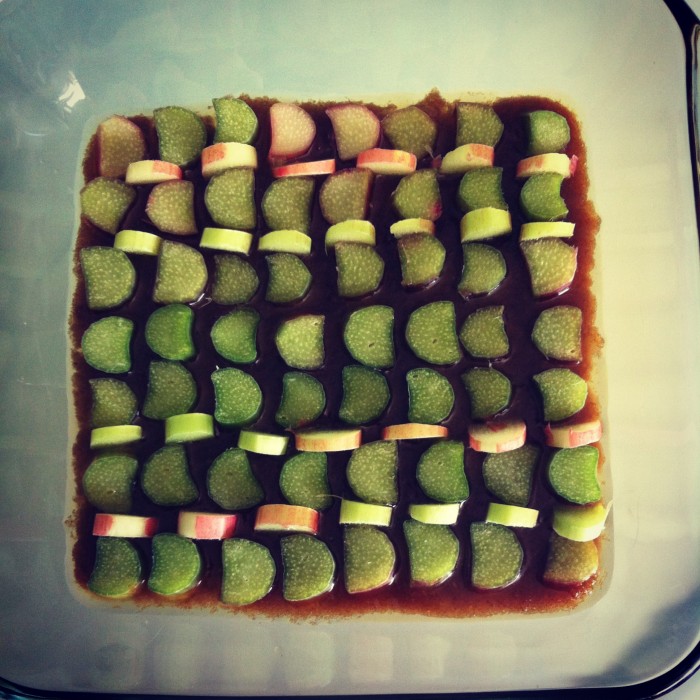 For the top (that will become the bottom): In a medium bowl, stir together the flour, baking powder and salt. Set aside.
In a separate large bowl, cream the butter and sugar together until smooth using an electric mixer. Add the eggs and vanilla and beat until light and creamy. Add the milk and beat for another minute.
All at once, add the flour mixture to the butter mixture and mix together until combined and smooth.
Using a large spoon, dollop the batter over the rhubarb in the pan. Carefully spread the batter out to cover everything evenly, making sure not the disturb the rhubarb underneath.
Bake for 50-55 minutes or until a toothpick comes out clean.
To invert: Once baked, let your cake cool for about 10 minutes in the pan and then run a sharp knife along the edges of the cake. Put your serving plate on top of the pan facing down. Wearing oven mitts (because the cake pan will still be very warm) flip the cake over onto the serving plate using your thumbs to keep the plate in place on the pan. It should come out really easily with the rhubarb now on top. If you lose a few chunks of the cake, don't worry about it too much. Just try to piece them back on.
This cake is great served on its own or with a scoop of vanilla or cinnamon ice cream.