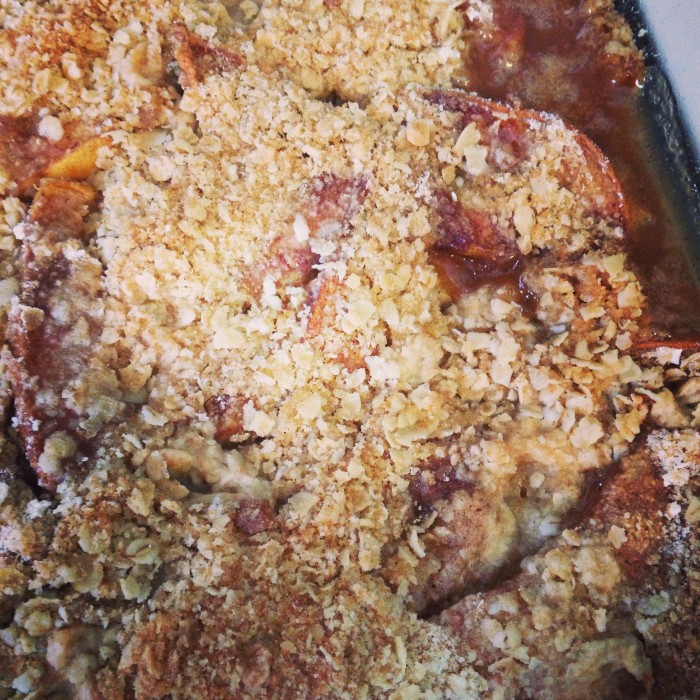 Nothing screams fall like a pear crisp. Pears are commonly poached and classically combined with ginger in various sweet and savoury dishes, so I trusted adding it to a pear crisp would be just as great. The delicate sweetness of the pears works perfectly with the fiery fresh ginger which adds some zing to this otherwise delicate recipe.
I only sweetened this recipe with honey which also complements the flavours, but feel free to use brown sugar in it's place if you prefer. You could also swap seasonal apples for the pears for a delicious apple crisp, keeping the fresh ginger in or not. Plus, this recipe doubles easily if you are feeding a crowd – just make the double recipe in a 9×13 inch pan instead and bake it for another 10-15 minutes.
PFC Favourite: Ginger Pear Crisp
For the fruit bottom:
5 medium-sized, ripe Bartlett pears
1 Tbsp. peeled and grated fresh ginger
2 Tbsp. orange, apple or pear juice (or 1 Tbsp. water and 1 Tbsp. lemon juice)
2 Tbsp. honey (Tip: wipe measuring utensils with a bit of oil on a paper towel before measuring honey and it will slide right off)
1/2 tsp. cinnamon
1/8 tsp. ground ginger
1/8 tsp. ground allspice
For the topping:
1/2 cup flour
1/2 cup old-fashioned rolled oats
1/4 tsp. baking powder
1/4 cup cold salted butter, cut into cubes
1/4 cup honey
For the fruit bottom: Preheat the oven to 350 degrees F. Core and slice the pears (I like leaving the skin on, but you can peel them) and put them in an ungreased 8×8 inch baking pan. Sprinkle the grated ginger evenly over the pears. In a small bowl, combine the juice, honey, cinnamon, ground ginger and allspice. Drizzle this mixture over top of the pears and ginger. Set aside.
For the topping: In a medium bowl, combine the flour, oats and baking powder. Using a pastry cutter or 2 knives, cut in the cold butter until you have small pea-sized pieces of crumble. Drizzle in the honey and stir to combine. Evenly top the pears with the oat topping.
Bake for 35-40 minutes or until the pears are tender and the topping is golden brown. Serve warm.