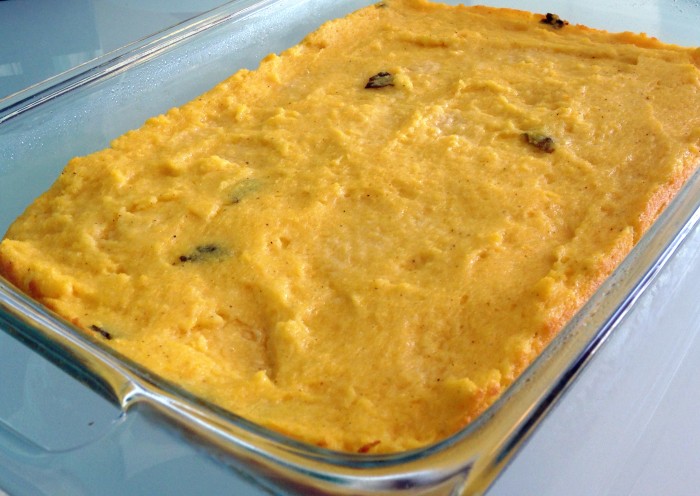 I love polenta. My mom's side is from Northern Italy, where it originates, so it's pretty much in my roots to love it. It's such a great stick-to-your-ribs side dish that screams for a great sauce (just about any kind of sauce).
At my Nonna's house, it's usually served right on the table poured out onto a large cutting board that's been covered in a clean tea towel or two. It's cooked to a pourable consistency, but it's thick enough to harden up a bit on the cutting board as it cools slightly in a flattened mound. It's then cut and scooped up with a metal serving spoon, but still has a creamy and soft consistency, with the thinnest, slightest layer of crust on top. We normally eat it with rabbit that's been cooked slowly in a rich tomato/wine sauce, which is the perfect sauce for the perfect polenta.
But have you ever tried to make it? You have to sit there and constantly whisk the cornmeal into the water/milk mixture for like half an hour or longer so that it doesn't stick to the pot or develop lumps. So, you better have everything else completely ready to go, unless you plan on serving just polenta. The mixture constantly bubbles up and spits hot, thick cornmeal bubbles at you, so you almost always walk away with burns to your forearms. Plus, you sometimes still end up with lumps even though your arm is about to fall off and you've been abused by hot polenta fireballs that always go for your arms, even though they could just land on the freakin' stove. Yeah…so it annoys me. I used to only make it when the craving was in super duper high gear and I admit that sometimes I resorted to the tube of cooked polenta from the grocery store which isn't all that great.
I read recently that you can bake it instead and basically skip all of the awful parts. I figured there was a 75/25 chance that this would work, since knowing from experience that short cuts aren't normally a good thing. 25: I could end up with an easy short cut and save my arms or 75: I could end up with an inedible mess that annoys me even more. But, I was willing to try it out anyway.
To my surprise, it is actually one of the best short cuts in the kitchen I have ever tried. Technically, it's not really a "short" cut, its more of a long "cut" since it cuts out the work, but actually takes longer to make. So, save your effort (and arms!) and make use of your oven. This baked polenta recipe forms a perfect crust on the bottom, but still has that creamy yet dense inside – it's perfect. I'm not sure if I will ever go back to the old way, but I know for sure we will be eating more polenta from now on.
In my family, we normally don't add any cheese to the polenta mixture. The cheese (usually freshly grated Parmesan) is served on the side at the table, so I kept this recipe basic. However, if you prefer, you can add 1/4 cup or so of cheese when you add the basil leaves, but reduce the salt a bit. Also, you can make this recipe just using water or stock (no milk) or using stock in place of just the water portion. If you do swap water for stock, reduce or omit the salt.
Oven Baked Polenta
Adapted from Victoria Straker Cook
For 6-8
3 cups water
3 cups milk
2 tsp. salt
2 cups yellow cornmeal
6-8 basil leaves, hand torn or cut into thin strips (optional)
1 Tbsp. butter, cut into small pieces
Preheat the oven to 375 degrees F. Thoroughly grease a 9×13 inch casserole dish with butter.
In a large pot, bring the water, milk and salt to a boil over medium-high heat. Watch it closely as it comes up to a boil, because it can bubble over easily the hotter it gets. If it starts to bubble up, quickly take it off the heat, reduce the heat, wait a minute and then put it back on.
Turn the heat down and in a steady stream, add the cornmeal while whisking constantly. Once all of the cornmeal is incorporated, whisk constantly just until it becomes thicker (about 10-20 seconds).
Working quickly, stir in the basil leaves (if using) and then immediately pour the mixture into your greased casserole dish, smoothing out the top a bit.
Dot the top of the polenta with the butter and cover the casserole dish with tinfoil. Bake for one hour. Serve immediately, or allow to cool to room temperature and then transfer to the fridge to cut and brown later.
If you are baking it ahead of time, you can cut the cooled baked polenta into squares, triangles or circles (use a cookie cutter or a glass) and fry them up in a bit of olive oil. You can also brush them with olive oil and bake them until crispy on a baking sheet.