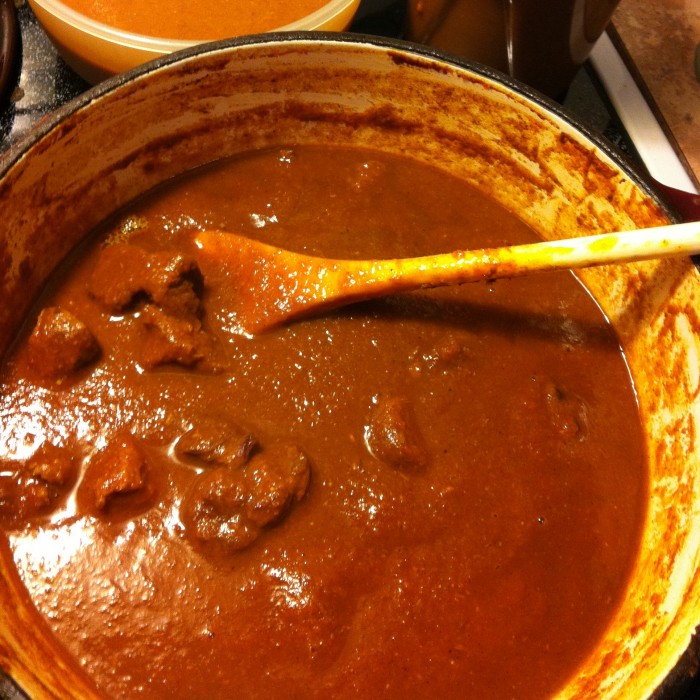 There's no bad day that can't be fixed with a good bowl of curry. At least, that's what we say in this house full of curry lovers. Just the smell is completely intoxicating to us.
The other day, we went to pick up our son's friend for an outing and his house smelled of the best Indian curry sauce you could ever imagine. While I was trying not to be so obvious about licking the air, I mentioned to his mother that it smelled absolutely divine. She sounded relieved explaining that sometimes she's self-conscious about the smell of her house when she cooks curry because not everyone likes it. When I heard her say this, I think my brain twitched like a robot with a few screws loose. It made my heart hurt.  How could someone not like curry? I wanted her to take it back. It just couldn't be true. The only thing that calmed me down was thinking about how if there can be people in this world who don't enjoy pizza, I guess there can be people in this world who don't enjoy curry. If I thought about it as THAT kind of a long shot, THAT was okay. Heart attack averted.
Indian curry sauce is versatile, warm, spiced, and hearty and can deliciously smother just about any protein source or vegetable, can range in heat from very mild to burn-your-insides-out hot and from super powered healthy to gluttonously decadent and even "picky kid" friendly. It's the coveted chili of the eastern world, where there are enough recipes out there to make a new one for every meal of every day of your entire life. And just like chili, it's served over rice or with bread (like naan) or both.
However, there was that time years ago that I attempted to make a curry sauce from scratch. It was my first attempt,I found a recipe that had great reviews online and I spent all day finding ingredients and cooking it. By the end of it, my kitchen was a disaster. Not just like I needed to load up the dishwasher or I'd be a bit embarrassed if a friend unexpectedly showed up kind of disaster, but like the Tasmanian devil had paid me a visit and it would be easier to light my kitchen on fire than clean it kind of disaster. But, not only that, the curry sauce was bland which was much more disappointing than just a messy kitchen. I added more spices, more salt, a bit of honey, and cooked it longer, but it just was what it was – completely underwhelming (especially for the amount of work involved!) If I had never eaten curry before this, I would have probably not really liked it either. The sauce was thin, bright red instead of the deep red I was used to and you could feel the raw texture of the powdered spices without really being able to taste the flavour of those spices very much. But how could something that I put so much effort and ingredients into be so bland?
After reading many more recipes and general information about curry sauce, I learned that it's all about the popping of the mustard seeds, the toasting of the spices, and the addition of other vegetables used not only as flavour enhancers, but as thickeners in your sauce. My first recipe had just called for onions and tomatoes, which didn't give it that depth of flavour and thick, rich sauce I was looking for.  There is also usually a creamy element added at the end such as yogurt or coconut milk to balance the spice out a bit and give it a hint of sweetness.
So, after several attempts, I have a winner. I call it a Basic Indian Curry Sauce because of its versatility to become any Indian curry dish you can dream of. I know you're looking down there at the recipe thinking I am Dr. Evil with my pinky up to my lips saying I am holding you ransom in your kitchen for "one-hundred million" ingredients, but it's less daunting than it looks since you're really just throwing everything into one pot and using your food processor to cut down on the veggie prep. In fact, if you're as organized in your spice cupboard as me, it may take you longer to find all of those spices than to actually make the sauce.
The addition of red lentils provides thickness and protein in this veggie and flavour packed sauce that blows my first attempt right out of the "sharks with freakin' laser beams attached to their heads" infested water.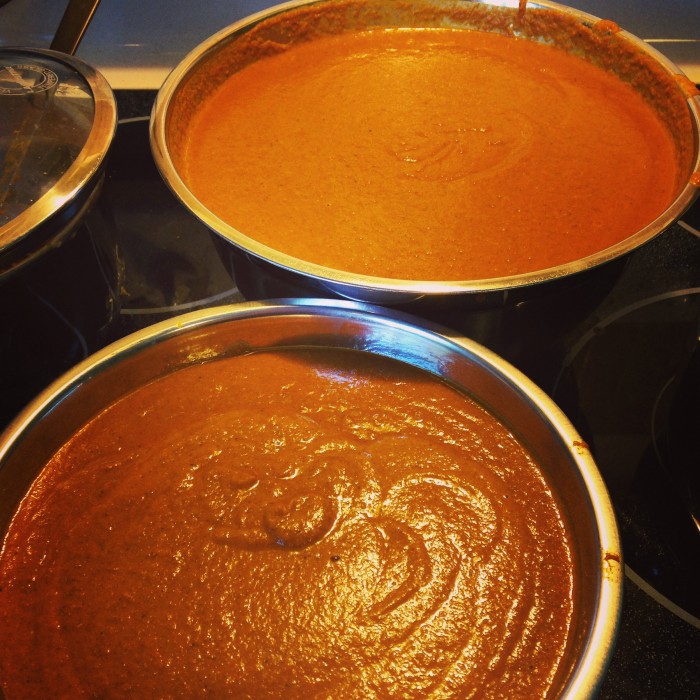 Basic Indian Curry Sauce
Adapted from Jamie Oliver
Please note that you can substitute 1/4 cup of a good quality curry powder (mild or medium) for most of the spices in this recipe. If you do this, I would still use the mustard seeds, the garam masala, and the bay leaves, if you have them.
2 medium onions, roughly chopped
3 medium carrots, roughly chopped
1 red pepper, de-seeded and roughly chopped
1 green pepper, de-seeded and roughly chopped
2 jalapenos, de-seeded, roughly chopped (Jalapenos are readily available in my grocery stores, so this is what I normally use. I de-seed them and it makes for a medium curry sauce. Red chilis are more traditional. But, feel free to use whatever hot peppers are your favourite. Keep the seeds in for more spice, if you wish. You can also omit them entirely for a mild sauce)
A handful of fresh cilantro, stems and all, thoroughly washed
6 cloves of garlic, peeled
1/3 cup peeled and grated ginger (a cheese grater works well)
3 Tbsp. coconut oil or ghee
2 tsp. mustard seeds
1 Tbsp. ground coriander
1 Tbsp. ground cumin
1 Tbsp. ground cinnamon
1 Tbsp. paprika
1 Tbsp. turmeric
1 Tbsp. garam masala
2 pinches fenugreek seeds
1/2 tsp. ground cloves
1/8-1/2 tsp. chili flakes (depending on your spice preference)
1/2 tsp. ground black pepper
4 green cardamom pods
1 black cardamom pod
2 bay leaves
1/2 cup dry red lentils, rinsed
10-12 medium tomatoes, peeled, if you prefer and chopped or 1 (796 mL) can of whole or diced tomatoes
1 cup of beef, chicken or vegetable stock
1 (398 mL) can of coconut milk or 2 cups of plain yogurt (If you are planning on freezing some of this sauce, opt for coconut milk instead of yogurt or plan on adding the yogurt in after it's thawed. Yogurt separates when frozen and thawed). 
In a food processor, add the onions, carrots, red, green & jalapeno peppers, garlic and ginger and process until everything is very finely chopped. Set aside.
Heat the coconut oil or ghee in a large saucepan over medium-high heat. Add the mustard seeds, swirl them in the oil a bit and then put a lid on the pot. It should only take a couple of seconds, but you will be able to hear the mustard seeds popping kind of like popcorn, but not as loud.
When the popping has settled down in about a minute (be careful not to leave them too long or they will burn and taste horrible), add the rest of the spices (bay leaves being the last addition). Fry the spices for a minute or two, stirring constantly. *TIP* If you add each spice in order, or measure them all into a separate bowl in order as part of your prep work, you will be less likely to miss one in that extensive list.
Add the processed vegetables and fry over medium-high heat for about 10 minutes. The onions will soften and the spices will be very fragrant.
Add the red lentils, the tomatoes, and the beef, chicken or veggie stock. Bring to a boil, reduce the heat and simmer (partially covered) for 45 minutes, stirring occasionally.
Take the sauce off the heat and remove and discard the green and black cardamom pods as well as the bay leaves, which should be floating close to the top. Using an immersion blender, blend the sauce until smooth and velvety.
Add the coconut milk or plain yogurt and stir to combine.
Use the sauce right away for beef, chicken or vegetable curry or store in the fridge for up to 4 days or in the freezer for up to 6 months.
This recipe makes enough for you to make 4 batches of curry. Each batch should be enough sauce for 4 servings.
In our house, we like to make what we call "naanwiches" where we fill our naan bread with our prepared curry and top it with something green like spinach or cabbage.
Below is a picture of a supper I made recently where I made a batch of simple baked meatballs and then simmered them in this curry sauce with cauliflower florets. Then we made "naanwiches" topped with kale. It was described by my 10-year-old son as "ridiculously good" and requested for his 11th birthday supper. You can't get a better compliment than that!