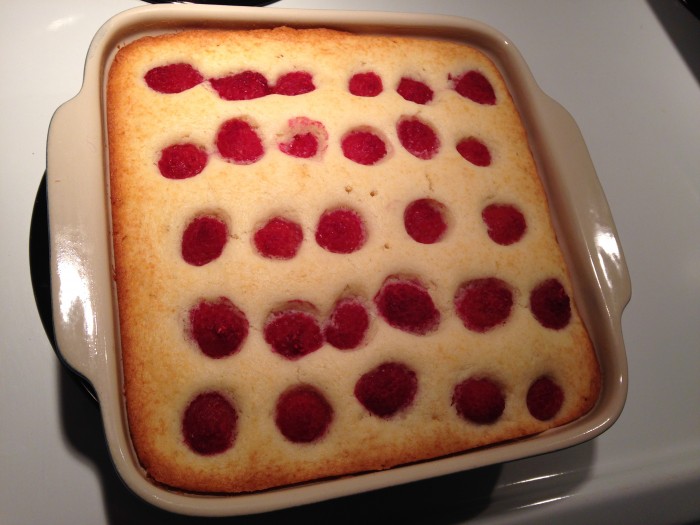 My Gramma Stewart and I made up this raspberry cake recipe in 1990 (I was 9) after we picked a bunch of wild raspberries at our cottage on St. Joe's Island. I remember this day vividly (especially since I got stung by a bee while we were picking the small berries). I found the recipe handwritten on a card in a drawer at the cottage a few weeks ago. Unfortunately, we didn't have enough wild raspberries this year, but the recipe is just as amazing as I remember. As it bakes, the juicy raspberries sink in as the cake puffs up around them. It tastes as though it has cornmeal in the batter when it doesn't, it's not too sweet and the texture is perfectly crumbly, fluffy and light all at the same time.
According to my mom, at the time we made this cake, we didn't have a lot of ingredients stocked at the cottage, hence the use of margarine instead of butter or oil. My Gramma was an excellent baker and could just whip up a cake or pie without a recipe in a pinch. She knew what ingredients did what and because of experience, she knew what amounts worked and what texture the batter had to be. So, as we were making this cake, she would ask my mom where to find a certain ingredient, and if my mom didn't have it, she wouldn't get frazzled or worried (that wasn't her style when it came to anything, really), she just changed the recipe as she needed to. Now this is easy in cooking because it doesn't always matter if you measure ingredients or follow a recipe or not, but in baking it means you have to change other ingredients and amounts for it to turn out edible. For her, this was really easy, but to me, this was and still is an amazing, magical skill that no one I've ever known does as well as my Gramma did.
Below is a picture of the original recipe on a card (flour dust and coffee stains and all) I found at the cottage. Looks to me like it was written down by my Mom – thanks Mom! Since it's perfect the way it is, the only things I changed about this recipe were the original instructions, since they were pretty vague on the recipe card and I figured out that "enough milk" was 3/4 of a cup. Our old hand-me-down oven at the cottage also ran hot, so I needed to add another 5 minutes of baking to the cake. The icing we made for this cake was just a simple icing sugar and milk drizzle, but I don't think it needs it.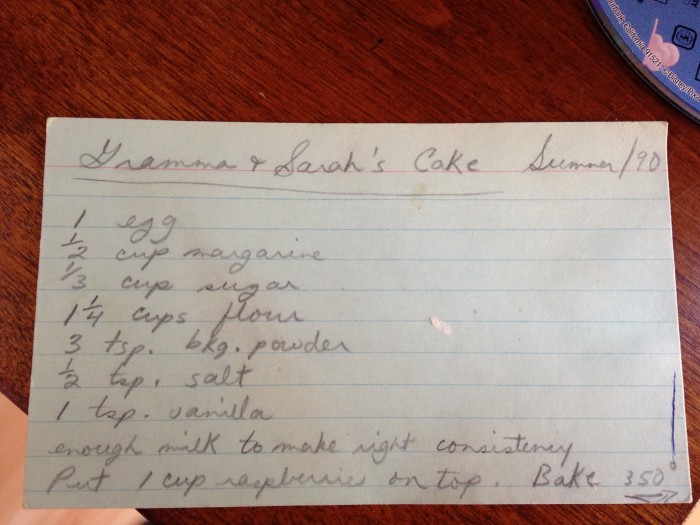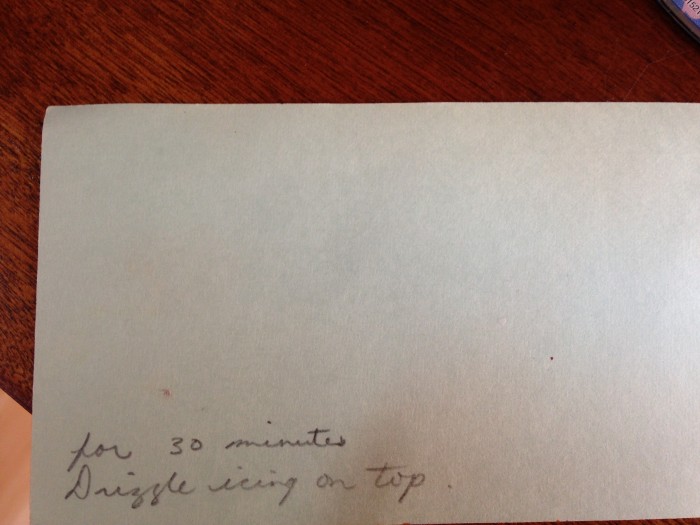 It's an easy recipe that you can whip up in an instant with things you probably already have on hand. You can also try it with blueberries, blackberries, or strawberries. Served warm with a scoop of vanilla ice cream and you have one of the best desserts I have ever had.
Sometimes, simple is just perfect. Gram, you are always in my heart.
Gramma & Sarah's Raspberry Cake 
1/2 cup of margarine (or softened butter)
1/3 cup of sugar
1 egg
1 tsp. vanilla
1 1/4 cups flour
3 tsp. baking powder
1/2 tsp. salt
3/4 cup of milk
1 cup of fresh raspberries
Preheat oven to 350 degrees F. Grease a 8X8 inch square baking pan with a bit of margarine or butter.
In a medium bowl, cream together the margarine (or butter) and sugar by hand with a wooden spoon or spatula. Add the egg and vanilla and stir to combine.
In another medium bowl, combine the flour, baking powder, and salt. Stir with a fork to combine.
Add about 1/3 of the flour mixture to the egg mixture and stir with the fork. Then, add 1/4 cup of milk, stirring to combine. Continue until the rest of the flour and milk are incorporated.
Scrape the cake batter into the greased baking pan and smooth out the top evenly with a spatula. Top the cake batter with the raspberries anyway you like – drop them on randomly or make a design.
Bake the cake for 35 minutes or until a toothpick comes out clean.