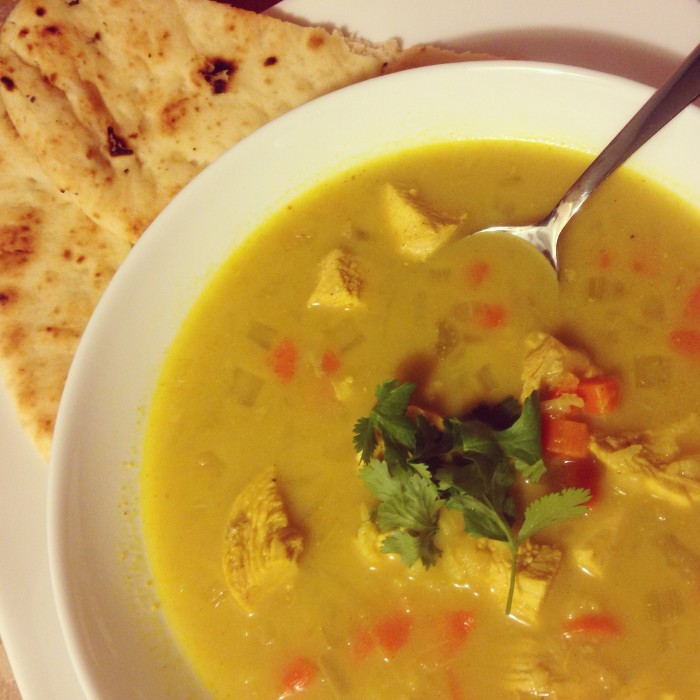 If you, like my sister and I, only ever knew Mulligatawny soup from an infamous mention on Seinfeld, you will be as surprised as I was to find out how easy and quick it is to make and how amazingly delicious it is.
Kramer: A bowl of Mulligatawny would hit the spot.
Elaine: Mulligatawny?
Kramer: Yeah. It's an Indian soup. Simmered to perfection by one of the great soup artisans in the modern era.
Elaine: Who? The Soup Nazi?
George: Shhhh…I gotta focus. I'm shifting into soup mode now.
Mulligatawny Soup
For 6
2 fresh boneless, skinless chicken breasts OR 4 fresh boneless, skinless chicken thighs (leftover cooked chicken works well, too!)
8 cups chicken stock
2 Tbsp. ghee or butter or coconut oil
1 large onion, chopped
2 medium carrots, chopped
1 stalk celery, chopped
2 cloves garlic, minced
1 tsp. grated fresh ginger
1 1/2 Tbsp mild curry powder
1-2 tsp. hot curry powder (optional)
3 Tbsp flour
1/4 cup white basmati rice
1 apple, cored, peeled & grated or finely chopped
1 cup of whole milk OR coconut milk
1/4 cup chopped fresh cilantro (optional topping)
To poach the chicken, place the chicken breasts (or thighs) in a large pot and cover them with the chicken stock. Bring to a boil, cover and gently simmer over low heat for 12 minutes. Take the pot off the heat, keep it covered and let the chicken sit in the hot stock for 20 minutes. Take the chicken out of the stock (reserve the stock) and cut into 1 inch pieces. Place the chicken on a plate and cover it to keep it warm. Set aside.
Meanwhile, in a large pot or Dutch oven melt the ghee (butter or coconut oil) over medium heat. Add the onions, carrots and celery and cook until the onions are translucent. Add the garlic and ginger and cook for another minute or 2. Sprinkle in the curry powder(s) and flour and stir for another minute.
Add in about a cup of the reserved stock to make a paste and scrape the bottom of the pan the release the brown bits. Pour the remaining stock in the pot while whisking so that you don't get any lumps. Add the poached chicken, the basmati rice and the apple to the pot.
Bring the soup to a boil and simmer over medium-low heat for 15 minutes or until the rice is fully cooked.
Remove from heat and stir in the milk (or coconut milk). Add salt and pepper if needed.
Serve warm sprinkled with a bit of the chopped cilantro with lightly toasted naan or pita bread on the side.