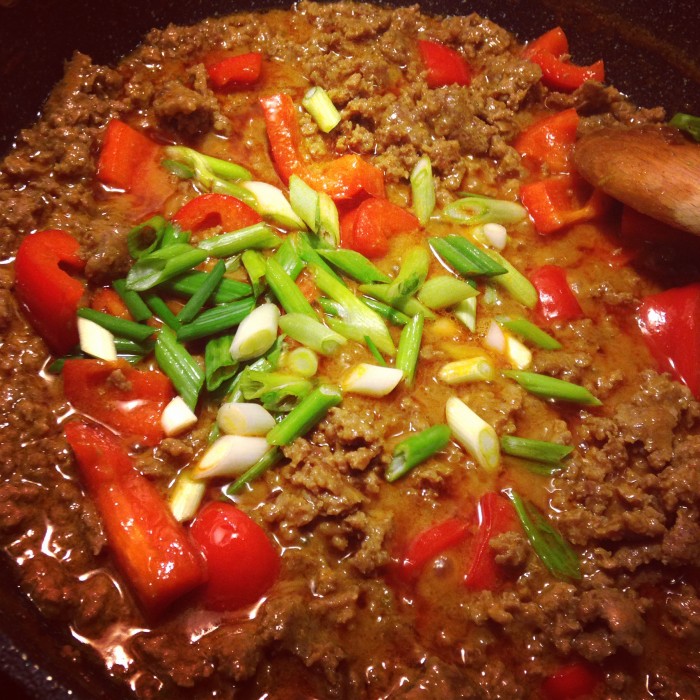 Okay guys, so this is like the Hamburger Helper of Thai curry but, there's definitely a place in the world for this simple, delicious recipe. The sauce is reminiscent of panang curry, a dish that Jay usually orders when we go to our favourite Thai restaurants. You can easily make this a vegetable curry instead by substituting large chunks of peeled potatoes, Chinese eggplant (which is a lot less bitter than Japanese or Thai eggplant, so therefore requires no prep other than chopping) and/or cauliflower.
There's no need to do more on a busy weekday than this cheat, aaaaaaaaaaand there's also no need to tell people you cook authentic Thai food after making this because you'd be sitting on a throne of lies. Got it? Good. Now go make it.
Easy Beef (or Veggie) Coconut Curry
1 tsp. sesame oil
1 pound lean or extra lean ground beef (OR for the veggie version, use about 4 cups total of large chunks of peeled potatoes, Chinese eggplant and/or cauliflower)
1 (400 ml) can coconut milk
1 1/2 cups low-sodium beef or vegetable stock
1 heaping Tbsp. Thai red curry paste
2 tsp. soy sauce
1 Tbsp. brown sugar
1 red bell pepper, deseeded and chopped
3 green onions, sliced
the zest and juice of 1/2 a lime
1/4 cup chopped unsalted, roasted peanuts
1/4 cup chopped cilantro
In a large pan, brown the ground beef in the sesame oil. Drain off the excess fat. If you're making the veggie version, cook the vegetables for a few minutes in the sesame oil.
Add the coconut milk, beef or vegetable stock, Thai red curry paste, soy sauce and brown sugar. Bring the mixture to a boil.
Simmer, uncovered, just over medium heat for 30 minutes, stirring occasionally.
Stir in the chopped red pepper and simmer for 5 more minutes. Add the green onions and cook for another 1-2 minutes just to soften the green onion a bit. Check the sauce for seasoning and add a bit of salt and pepper (or a small splash more of soy sauce) if needed. Just before serving, stir in the juice and zest of the half lime.
This curry is best served over rice to soak up the addictive sauce. Garnish each portion with a bit of the crushed peanuts & chopped cilantro. Serves 4.