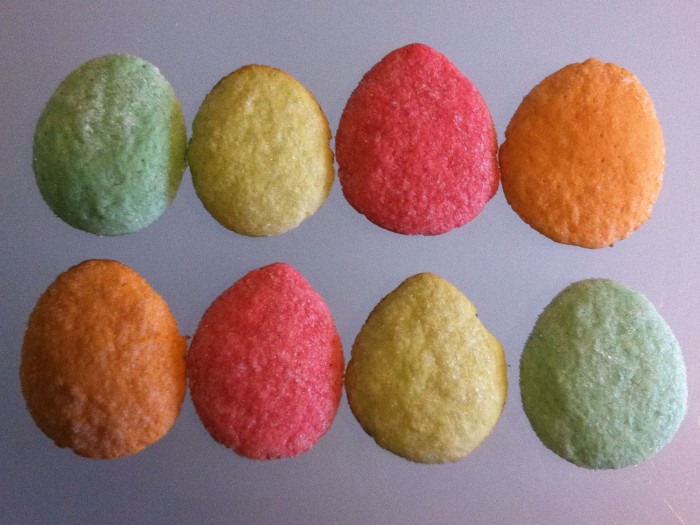 The original recipe for these cookies is from an old Betty Crocker cookbook from the 90's. I remember baking these cookies as a preteen. In the book they are simply called "Pastel Cookies" with a picture of them in a colourful stack tied up with a bow. It was so cute I had to make them.
The variety of colours really make them stand-out on a cookie tray without resorting to loads of coloured icing.
The original recipe for this cookie uses 1/2 cup of butter and 1/4 cup of shortening like a lot of other cookie recipe from the 80's and 90's do. But, I try to stay away from shortening as much as possible now.
I've tried this recipe using all butter and they were delicious, but the cookies tend to flatten out a bit too much. I decided to try using plain Greek yogurt in it's place just because the texture of the yogurt is thick and rich. I replaced the full 1/4 cup of shortening with the Greek yogurt and the cookies turned out puffy instead of flat, and a bit softer in texture.
In fact, you can replace up to half of the solid fat in almost any cookie, cake, brownie or waffle recipe with Greek yogurt! Any plain Greek yogurt over 2% milk fat works best.
These cookies match Cadbury Mini Eggs, which I just can't go without during this season. Make a few batches to have a variety of pastel colours. You will have tons of cookies, but they make great gifts, are popular at bake sales and make really cute mini ice cream sandwiches.
Jello Egg Cookies 
Adapted from Betty Crocker's 110 Cookie Recipes 3rd Ed. Cookbook 
Makes about 6 dozen:
2 ½ cups all-purpose flour
1 teaspoon baking powder
¼ teaspoon salt
½ cup sugar
1 (85 g) package of fruit-flavoured gelatin (Jello) powder (lime, orange, raspberry, blueberry etc., but not the sugar free kind)
1/2 cup butter, softened
1/4 cup plain Greek yogurt (anything over 2% MF works best)
1 tsp. vanilla
2 eggs
Heat oven to 400 degrees F. Line cookie sheets with parchment paper or nonstick baking mats.
In a medium bowl, stir the flour, baking powder and salt together with a fork. Set aside.
Using an electric mixer and in a large bowl, cream the sugar, gelatin powder, and butter together until smooth. Mix in the vanilla and the eggs until incorporated.
With the mixer on, slowly add the flour mixture to the butter mixture and mix just until the flour is incorporated.
Using a heaping teaspoon of dough each time shape the dough into small tear drop shapes. I find this works best if you roll the dough into a short log first and then pinch the top to make the tear drop shape. See picture below. You can also just roll the dough into balls if you don't want to make the cookies egg-shaped.
Using the bottom of a glass dipped in sugar, flatten each tear drop out. They should make an egg-shape. If any of them are misshapen or jagged on the edges, you can reshape them by gently using your fingertips to push the dough into place. Don't worry about the cookies being too close together as they don't spread out very much at all.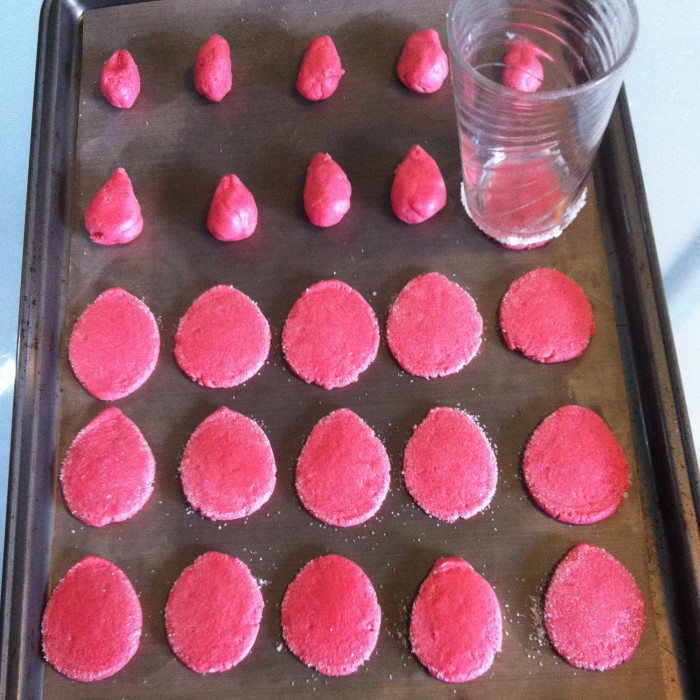 Bake for 5 to 7 minutes or until slightly golden along the edges. It doesn't take long for these cookies to go from done to burnt on the bottom, so watch them carefully during the last few minutes at first to get the right timing.