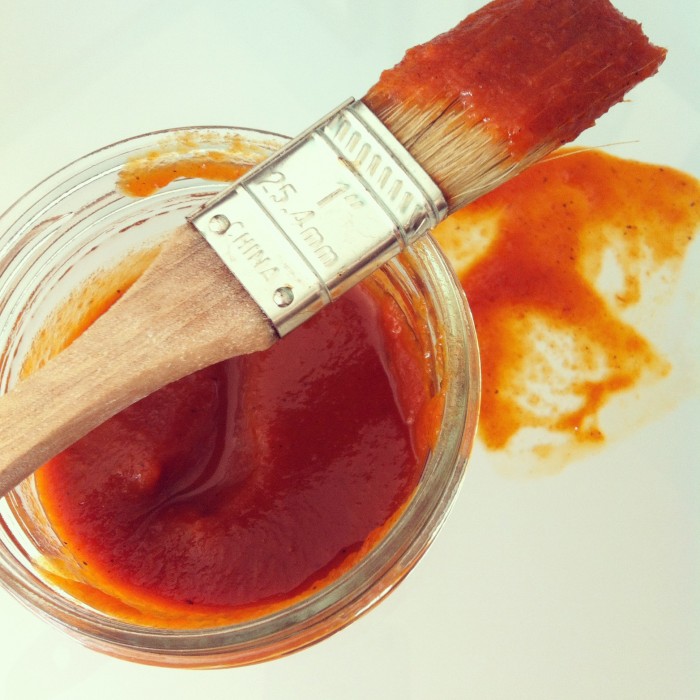 I am one of those people who goes insane for anything that is sweet with heat. From chips to chicken wings and cookies to hot chocolate. If it's sweet with heat, I'm in. For years, I've been on a hunt for a great sweet with heat BBQ sauce that doesn't have an overpowering smokey flavour, mouth-burning spice level or corn syrup and weird-ass ingredients. Don't get me wrong, I like a smokey flavour and I can take quite a bit of spice, but I just don't want it every time I eat BBQ sauce.
My quest has left me with bottles and bottles of BBQ sauces that lurk in the back of my fridge and laugh at me with their smug sauciness.
This recipe came about because I couldn't find what I was looking for in a store-bought bottle. After researching homemade BBQ sauce techniques and typical ingredients, I was ready to dive right in and get creative. I made a list of typical BBQ sauce ingredients and things from my brain that I wanted to see in one. This is what I came up with and it is exactly what I was looking for all along!
The fire-roasted tomatoes add a bit of smokiness that is subtle instead of tasting like fake liquid smoke, the peaches add texture and natural sweetness to the sauce, the Sriracha adds a bit of heat, but not just heat, flavoured heat and the star anise, and cardamom add an interesting, warm, and grounding layer of spice. (And anyone who knows me well, also knows my philosophy that adding cardamom to anything makes it 1,000 times better).
Who's laughing now, saucy rejects?
Fire Roasted Tomato, Peach & Sriracha BBQ Sauce 
1 Tbsp. vegetable oil
1 medium onion, diced
2 cloves garlic, minced
1 (540 mL) can of tomato juice (or 2 1/4 cups of tomato passata)
1 (398 mL) can fire roasted tomatoes (I use Aylmer Accents, but if you make your own, use 1 3/4 cups)
2 (112.5 mL) snack-size diced peaches in juice cups (I use Del Monte) Note: you can also use 2 peeled & diced fresh peaches
2/3 cup ketchup
2 Tbsp. apple cider vinegar
1 Tbsp. lemon juice
1 Tbsp. worchestershire sauce (or soy sauce)
1-2 Tbsp. Sriracha sauce (depending on your preferred spice level. If you live in Ottawa, Michael's Dolce Sriracha is excellent)
1/4 cup molasses
1/4 cup honey
1/4 cup brown sugar
2 tsp. paprika
1 tsp. dry mustard powder
1/4 tsp. cinnamon
1 whole star anise pod
1 whole black cardamom pod
2 tsp. salt
In a large pot, heat the vegetable oil over medium-high heat. Add the onion, season it with a bit of salt and pepper and cook until translucent and slightly golden brown.
Add the garlic and cook for another few minutes, being careful not to over-brown the garlic. Remove from heat.
Add the tomato juice, fire roasted tomatoes, and peaches (with their juice) to the onions and garlic. Using an immersion blender, blend this mixture until it's very smooth.
Add the rest of the ingredients (excluding the salt) to the blended mixture and stir well. Put the pot back on the heat, bring to a boil and simmer for 2 hours over low heat, stirring occasionally. It should be thick and slightly darker in colour when it's done. Remove and discard the star anise and cardamom pods.
Check for seasoning. It will probably need the whole 2 teaspoons of salt to bring out all the flavours of the sauce, but you can add a 1/4 tsp. at a time and stop at your preferred amount.
Strained the finished sauce into a bowl to get a smooth texture and remove any tomato seeds or skins.
You can use the sauce right away, or store it in a jar in the fridge for up to 2 weeks. You can also divide it into smaller portions and freeze it for up to a year.
If you don't think you will use it all, it makes a great gift for BBQ season that's just around the corner!
Variation: On a large parchment-lined baking sheet, roast 2 pounds of fresh tomatoes (quartered) and 2 fresh peaches (quartered, pits removed) drizzled with a bit of olive oil and salt & pepper in a 425 degree F oven for about 45 minutes. Once they are cool enough to handle, remove as many skins from the tomatoes and peaches as you can. Continue with the recipe replacing the canned fire-roasted tomatoes and canned peaches with your oven-roasted ones.