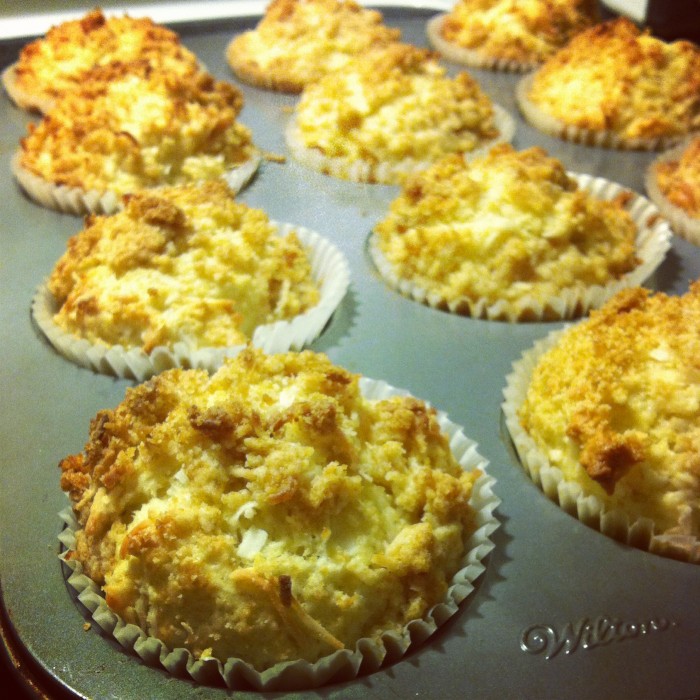 I'm a mom.
I love coconut.
Your mom probably does, too.
Mother's Day is soon.
Hint-itty, hint hint.
(I never said I was a poet).
Coconut Streusel Muffins
For the streusel topping:
3 Tbsp. flour
3 Tbsp. brown sugar
3 Tbsp. unsweetened flaked coconut
2 Tbsp. butter (or coconut oil)
For the muffins:
1 3/4 cups flour
1/2 cup unsweetened flaked coconut
1/3 cup sugar
2 tsp. baking powder
1/4 tsp. salt
1 egg
3/4 cup coconut milk (or regular milk)
1/4 cup vegetable oil (melted coconut oil would work as well)
Preheat your oven to 400 degrees F.
Grease (or line with paper cups) 12 regular-sized muffin cups.
For the streusel topping: in a small bowl, mix the 3 Tbsp. of flour, brown sugar, and coconut together. Cut the butter (or coconut oil) in with a pastry cutter or 2 knives until it the crumbles are about the size of small peas. Set aside.
For the muffins: in a medium bowl, stir together the flour, coconut, sugar, baking powder and salt. Set aside.
In another medium bowl, combine the egg, coconut milk (or regular milk), and vegetable oil and whisk with a fork.
Add the wet ingredients to the dry ingredients all at once and mix with a wooden spoon just until combined. It will be lumpy and thick, but mixing too much will create a tougher muffin, so try not to over mix.
Spoon the batter into the prepared muffin cups. The batter in each cup should reach about 2/3's of the way up.
Sprinkle about a tablespoon of streusel topping over each muffin.
Bake for 16-18 minutes or until a toothpick comes out clean.