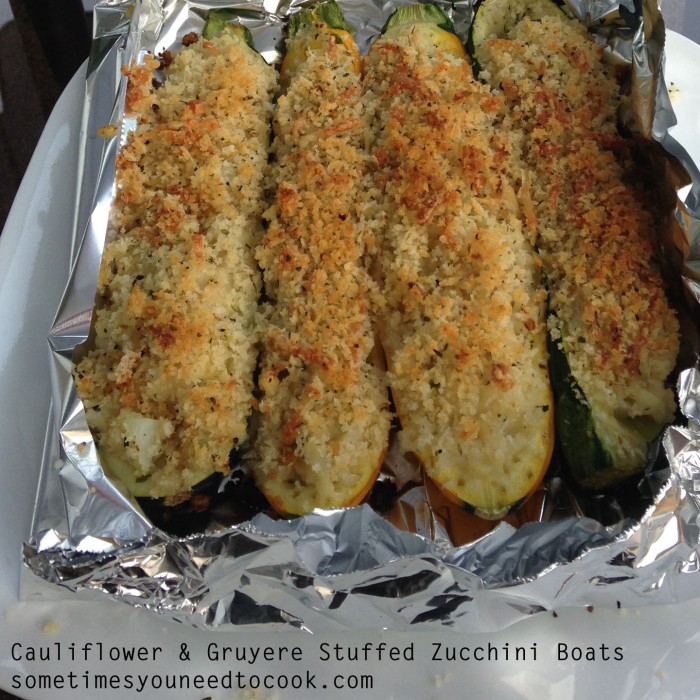 Today, I did a little TV segment on Rogers Daytime Ottawa. This is one of the recipes I featured on the show.
This recipe for Cauliflower & Gruyere Stuffed Zucchini Boats is creamy and decadent, yet packed with veggies and has the perfect satisfying crispy top. It's a stand-out side dish or lunch that can be made on your bbq or in the oven.
Cauliflower & Gruyere Stuffed Zucchini Boats
(Makes 8 stuffed zucchini boats)
 4 (6-8 inch) zucchini, yellow or green
1 medium-sized cauliflower, cut into small florets and pieces
A splash of olive oil
1 shallot, minced
8 thin slices of pancetta (or bacon), cut into small pieces (optional)
1 garlic clove, minced
1/4 cup cream or half & half
1 1/2 cups gruyere cheese, grated & divided
1 Tbsp. fresh chives (tip: snip into tiny pieces using clean scissors)
1/2 tsp. salt
1/4 tsp. pepper
1/8 tsp. freshly grated nutmeg
1 cup of panko breadcrumbs, divided
1 Tbsp. butter, melted
1 tsp. herbs de Provence
Cut each zucchini in half lengthwise and scoop out the inside using a tablespoon trying to leave the zucchini boat about 1/4 inch in thickness all around. Sprinkle the zucchini boats with a bit of salt and pepper and set aside. Save and use the scooped out inside of the zucchini for another recipe (like an omelette or stir-fry).
Steam the cauliflower for 10-12 minutes or until soft.
Meanwhile in a small frying pan, sauté the shallot and pancetta (if using) in the olive oil over medium-high heat until the shallot is translucent. Add the garlic and sauté for another minute or 2. Remove from heat and set aside.
Transfer the cauliflower to a big bowl and mash it a bit using a potato masher or a fork, keeping some of the texture. Add the sautéed shallot mixture, the cream (or half & half), 1 cup of the grated gruyere cheese, 1/3 cup of the panko breadcrumbs, the snipped chives, salt, pepper, and nutmeg. Mix to combine.
In a separate bowl, add the melted butter and mix in the leftover 2/3 cup of panko breadcrumbs, and 1/2 cup of gruyere and the herbs de Provence.
Preheat one side of your grill to medium-high heat. Use 2 small aluminum trays or make 2 trays out of tinfoil, put each tray on a plate for stability and put 4 zucchini boats on each tray. Fill the zucchini boats with the cauliflower mixture. Top the boats with the breadcrumb mixture, pushing it down gently with your fingers so that it sticks.
Place each tinfoil tray on the side of the grill with no direct heat underneath for 25-35 minutes or until you can easily stick a fork in the zucchini boats and the breadcrumb topping is brown.  Or, alternatively, you can bake them in the oven at 375 degrees F for 25-30 minutes. Serve warm.