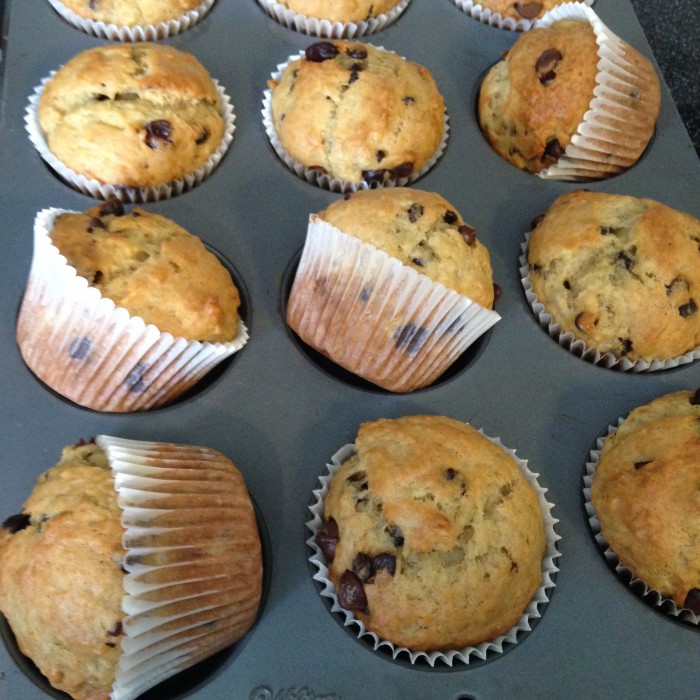 These muffins are dead easy, sweetened with just the ripe bananas & maple syrup instead of white sugar and just happen to be vegan (but you'd never know it!). As well as being a Parkdale Food Centre favourite, I bake these muffins (minus the optional chopped nuts) for Ethan to take to school for snacks and for any school function that requires baking for 3 reasons: 1. I avoid going to the grocery store last minute because I pretty much always have these ingredients kicking around including the ripe bananas which I keep in the freezer until I'm ready to use them; 2. They don't contain nuts (unless you add them), eggs, milk or butter. With all the allergies and food sensitivities/preferences around, most kids can enjoy these muffins at school without a worry; and 3. Did I mention they are dead easy? When you remember about the bake sale at 10pm the night before, you can whip up a few batches of these in no time and get back to watching Orphan Black. BOOM.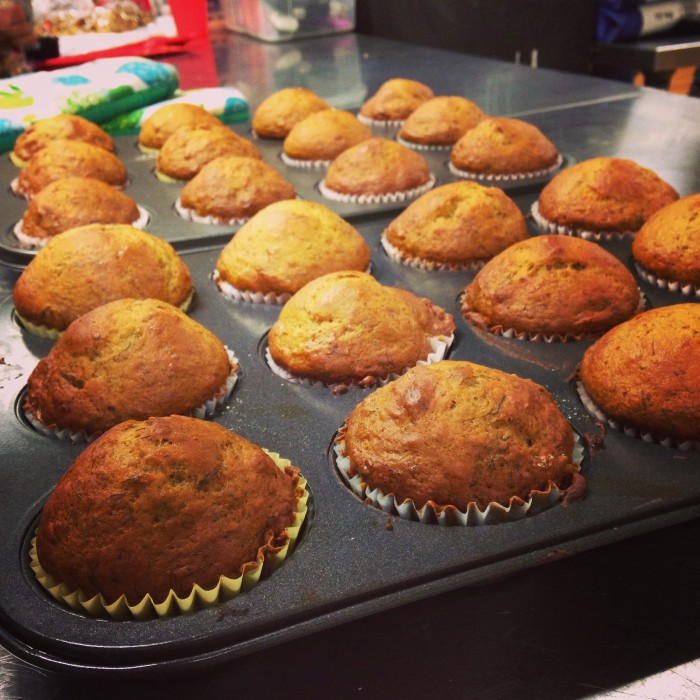 Easy Banana Maple Muffins
3 large very ripe bananas (or 4 smaller ones)
1/2 cup real maple syrup (or your can use honey instead, but they won't be vegan if you do)
1 Tbsp. vanilla extract
1/3 cup vegetable oil (you can use melted coconut oil, canola, sunflower or olive oil)
2 cups all purpose flour
1 tsp. baking soda
1/2 tsp. salt
1/2 cup dark chocolate chips, fresh blueberries or chopped nuts (optional)
Preheat the oven to 350 degrees F. Grease a 12 muffin tray or line with paper cups.
In a large bowl, combine the flour, baking soda and salt. Stir with a fork. If you are adding chocolate chips, blueberries or chopped nuts to your muffins, add them to the flour mixture and stir to coat. Coating them in the flour will help prevent them from sinking to the bottom of your muffins while baking. Set aside.
In a medium bowl, mash the peeled bananas using a fork until almost smooth. Stir in the maple syrup, vanilla, and oil.
Add the banana mixture to the flour mixture and using a spatula fold together just until combined. Don't overmix the batter or you will end up with tough muffins.
Fill the prepared muffin cups about 3/4 of the way up. Bake the muffins for 25 minutes or until a toothpick comes out clean. Makes 12 muffins.