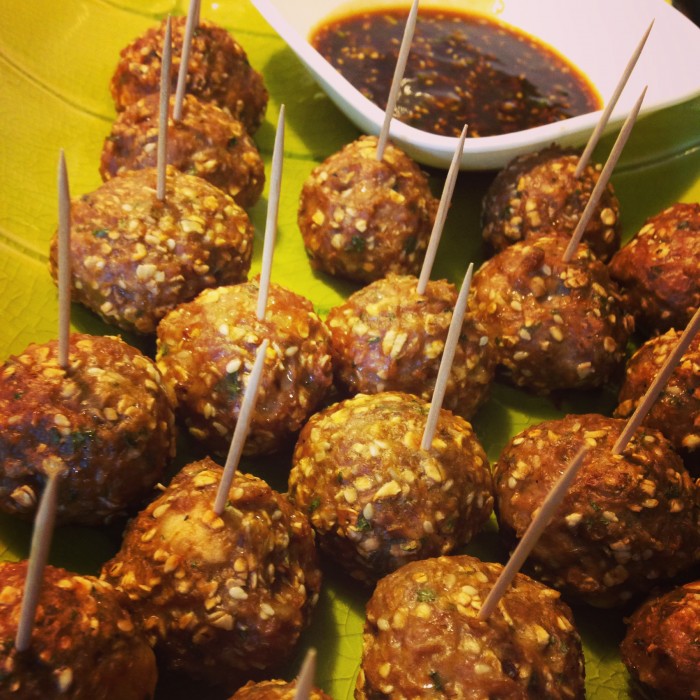 We don't get to cook with meat very often in the Parkdale Food Centre kitchen, where I am a regular volunteer cook. The small amount of lean meats we receive and buy go directly into our big chest freezer and then to our neighbours in need, so there are rarely leftovers for us to use. Since our regular food bank days are on Tuesdays and Thursdays, in the PFC kitchen our role is to cook lunch for our neighbours using up leftover fresh produce that is on its last leg and process & freeze the rest. So you can imagine that we make a lot of banana breads and muffins, applesauces, smoothies, bread puddings, tomato sauces, soups, curries and stews and our freezer is full of ripe bananas, chopped tomatoes, vegetable stocks, chopped onions, and odds n' ends. It's a wonderful zero waste approach that allows us to regularly give out fresh produce at the food bank and feed our neighbours a healthy meal as well as teach them how to cook with they are bringing home.
Since we have cooking workshops taught by local chefs for our neighbours during the days the food bank is not open, sometimes we are left with a few welcome surprises in our fridge. A few weeks ago we were left with a package of ground chicken. At first I thought I might make a chicken bolognese sauce or a chili since we had some carrots that needed to be used as well as some tomatoes in our freezer, but these were regular meals on our menu and I wanted to treat everyone to something different. I found some hoisin sauce in our pantry as well as some soy sauce in our fridge, so I decided to make these baked Asian chicken meatballs. They were simple because I used only what we had available in our kitchen, but they were very well received. I put a toothpick in each meatball, put the dipping sauce in a little bowl and arranged everything on a beautiful tray that was donated to us. I walked around the centre like a server at a fancy restaurant offering hors d'oeuvres & little napkins. It's the little things like this that our neighbours might not get to experience very often, so we always make our presentation and service count.
One of our neighbours who is also a regular volunteer (and was just recently hired to be PFC's part time caretaker – SO AWESOME!) demanded the recipe, so I had to remember it and write it down. This particular neighbour actually learned to cook a few years ago right in the PFC kitchen. Previous to that, he had no experience cooking at all. He is now the primary cook for his roommates and I have heard from all of them that he makes amazing, healthy meals that they share. How incredible is that? After I gave him this recipe, the next time I saw him he told me that he made them, but used ground beef instead of chicken and fresh garlic instead of powdered because that's what he had – the signs of a great cook. This one's for you, Jerry!
Baked Asian Chicken Meatballs
Makes about 24 meatballs:
1 slice white or whole wheat sandwich bread, crust removed
3 Tbsp. milk
1 pound ground chicken, preferably organic
1 egg
1/2 cup quick or old fashioned oats
1 Tbsp. soy sauce
2 Tbsp. hoisin sauce
2 Tbsp. chopped fresh parsley (or 2 tsp. dried)
1 Tbsp. sesame seeds
1 heaping tsp. garlic powder
1 heaping tsp. ground ginger
1/4 – 1/2 tsp. red pepper flakes
1/4 tsp. pepper
Dipping Sauce:
2 Tbsp. hoisin sauce
1 tsp. soy sauce
1 tsp. honey
1 Tbsp. water
1 green onion, very finely sliced (set some aside to garnish the meatballs)
Preheat the oven to 350 degrees F. Line a large baking sheet with parchment paper. Set aside.
Tear the sandwich bread into small pieces, place in a medium-large bowl and drizzle with the milk. Mash the milk and bread together with a fork until it's a paste. Add the rest of the meatball ingredients to the bowl and stir with a fork. Wet your hands a bit to avoid sticking and then using your hands, mix the ingredients together until just combined. Form the mixture into "two-bite" sized meatballs. I use a scant tablespoon to measure the mixture and make sure each meatball is about the same size. The mixture will be sticky and wet. Lightly wet your hands again if the mixture is sticking to them while forming the meatballs.
Place the meatballs onto the baking sheet and bake for 20-25 minutes (the internal temperature should read 185 degrees F).
Meanwhile to make the sauce, combine all of the sauce ingredients in a small bowl and stir.
Serve the meatballs warm sprinkled with a bit of the reserved green onion with the dipping sauce on the side. I sprinkled a bit of sesame seeds over the sauce just before serving. Or serve each meatball in a Boston lettuce leaf cup with a bit of the dipping sauce drizzled on top and sprinkled with a bit more sesame seeds and finely sliced green onion.