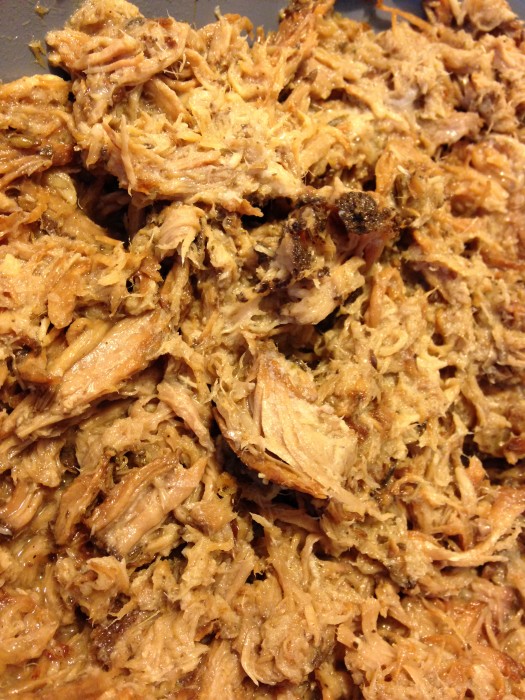 This super easy slow cooker pulled pork is a nice change from the popular BBQ-sauced version. It tastes a bit like breakfast sausages and who in the world doesn't like those?
It's great as is, on breakfast sandwiches (it cooks while you're sleeping – hello!), or on fresh baked buns and topped with crunchy sweet pepper rings for an easy weeknight dinner.
Slow Cooker Maple Fennel Pulled Pork
4 pound pork shoulder, trimmed of excess fat (marbling & a bit of fat around the edge is good, but a very thick layer should be trimmed a bit)
1 onion, diced
5 cloves garlic, sliced
2 Tbsp fennel, crushed with mortar & pestle or in a ziploc bag using a rolling pin
1 Tbsp herbs de Provence
2 tsp ground sage
2 tsp salt
1 tsp red chili flakes
1 cup water
1/2 cup maple syrup
1/3 cup apple cider vinegar
In a slow cooker large enough to fit the pork shoulder, add the onions and the garlic.
In a small bowl, mix together the crushed fennel seeds, herbs de Provence, ground sage, salt and red chili flakes. Rub this spice mix all over pork. Place the pork shoulder in the slow cooker on top of the onions and garlic.
Measure the water, maple syrup and vinegar together and pour this mixture around the pork.
Place the lid on the slow cooker and cook on low for 8-10 hours.
When the pork is done, transfer it to a large plate. Shred the meat using 2 forks, discarding any large pieces of fat.
Strain the remaining liquid into a bowl and skim off most of the excess fat that floats to the top using a spoon. Discard the excess fat as well as what was strained from the liquid.
If you are eating the pork right away, you can transfer it to a serving dish and spoon over some of the sauce to keep it moist. You can also put the meat back into the slow cooker and keep it on low/warm until ready to serve. Just be sure to pour over some of the sauce to keep it moist as needed.