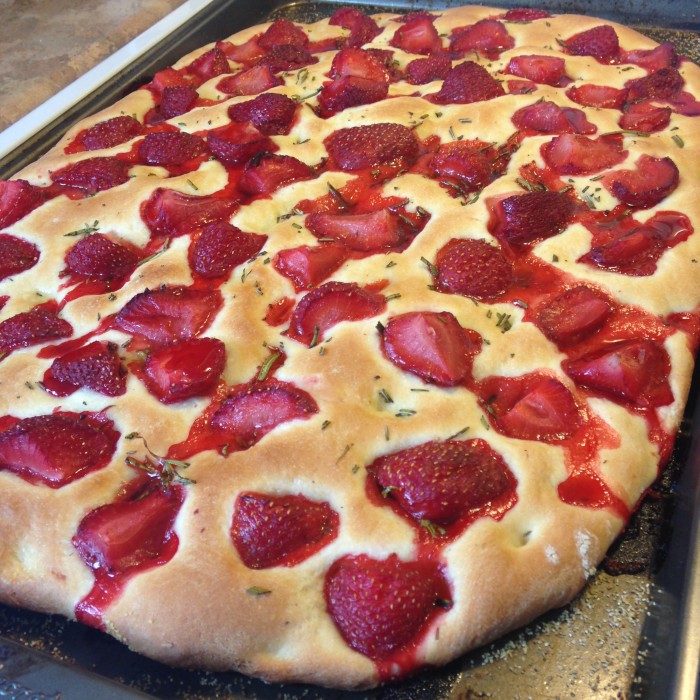 This strawberry & rosemary focaccia recipe proves that strawberries don't always have to be dessert. Strawberries and rosemary are a classic flavour combination that is best showcased when strawberries are in season and rosemary is fresh. I'm taking advantage of my local strawberry season and loving every bite.
Strawberry & Rosemary Focaccia 
Adapted from Food Network's Tyler Florence
2 1/4 tsp. quick rise yeast (or one 8 gram package)
1 cup plus 2 Tbsp. warm water
3 Tbsp. sugar
1 1/2 tsp. salt
1/4 cup olive oil, plus more for drizzling
4 cups all-purpose, unbleached flour (preferably organic)
Cornmeal, for dusting pan
1 Tbsp. fresh rosemary, chopped
1 quart local strawberries, quartered or sliced
In a large bowl, add the yeast and warm water. Stir it a bit with a fork and let it stand for about 10 minutes or until it looks frothy. (If it never gets frothy looking, your yeast is dead and you will need to start over with newly purchased yeast).
Add the salt and the olive oil to the yeast and stir with the fork. One cup at a time, add in the flour, mixing with a wooden spoon after each cup. It will get very hard to stir, but don't worry about mixing all the flour in. While your are kneading it, the rest of the flour will get incorporated.
On a flour dusted surface, turn out your dough and loose flour. Knead the dough for 10 minutes. It will be smooth and elastic when it's done. (To check if it's elastic, lightly push your finger into the top of the dough to dent it. If it bounces back to the original shape quickly, it's elastic and ready).
Drizzle the inside of another large bowl with a bit of olive oil and use a paper towel to spread the oil evenly all over the inside of the bowl. Place your dough in the bowl and flip it over once to get a bit of oil coating on the top of the dough (this prevents a skin from forming on the top). Cover the bowl tightly with plastic wrap and place it in your oven (heat OFF) or in another warm, draft-free place for 45 minutes to rise. It should double in size during this time.
Lightly coat a large baking sheet with a bit of olive oil and sprinkle on a bit of cornmeal to prevent it from sticking. Set aside.
Once the dough is double in size, punch it down a bit and turn it onto a flour dusted work surface. Roll the dough out to an oblong shape that is about 1/2 inch thick. Transfer it to the prepared baking sheet and sprinkle it with the chopped fresh rosemary. Cover the pan with plastic wrap and let it rest for about 15 more minutes.
Meanwhile, preheat the oven to 425 degrees F and prepare your strawberries.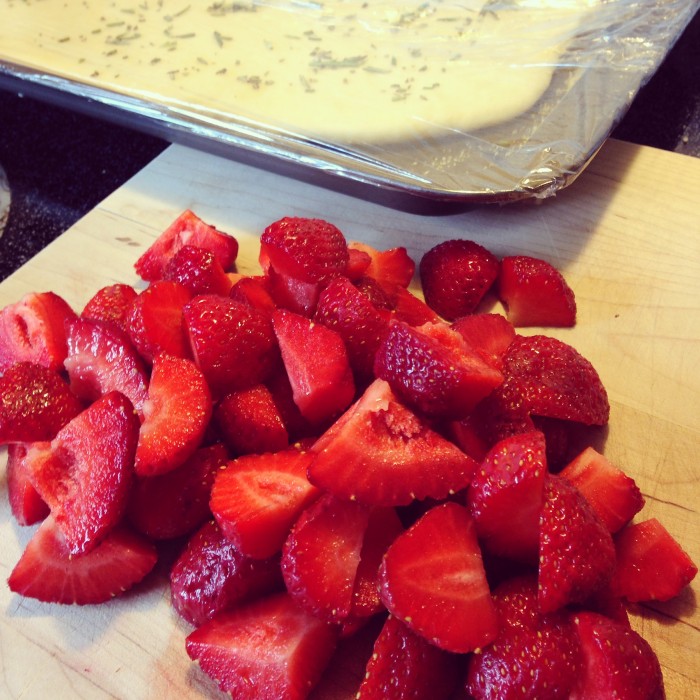 Take the plastic wrap off the dough, and make some dimples in it with your fingers, pushing in the rosemary. Drizzle the surface of the focaccia dough with a bit of olive oil (about a Tbsp. or so) and brush it evenly over the surface. Lightly push the strawberry pieces into the dough.
Bake for 15-20 minutes or until golden all over.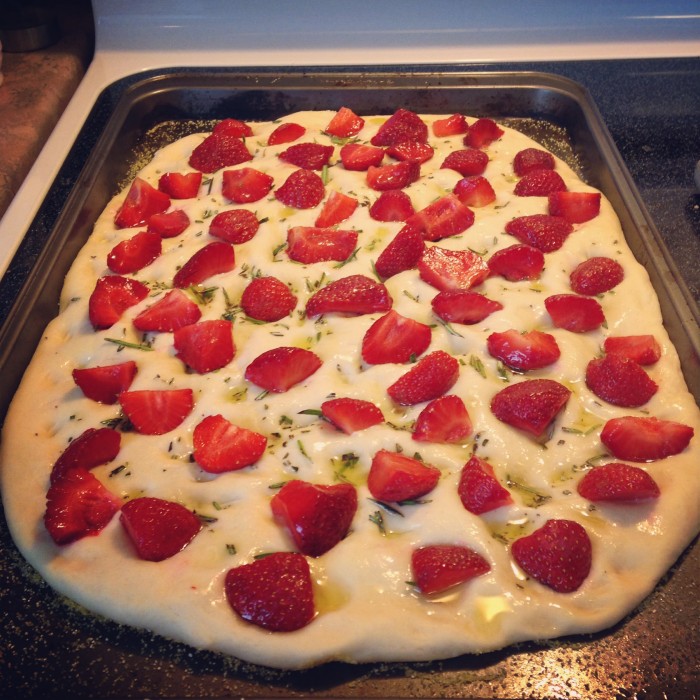 Cool the focaccia in the pan for a few minutes. Transfer it to a cutting board and cut into any size pieces you like. For an appetizer, cut your focaccia up smaller and for supper, lunch or breakfast cut the pieces a bit bigger. If you like, drizzle a tiny bit of balsamic reduction/glaze (store-bought or homemade) over each piece when you serve it.