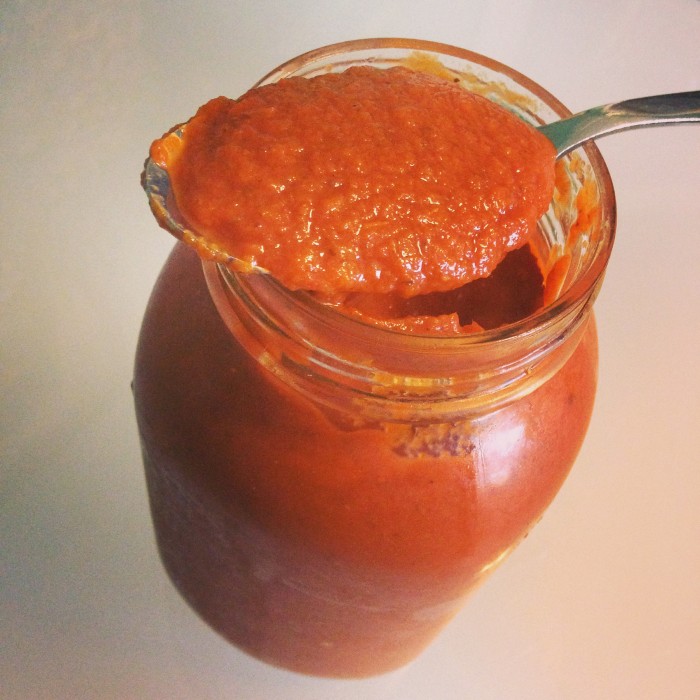 Garlic scapes are the green curly flower stalks of garlic plants. They are cut off by farmers in late June/July so that the garlic bulbs on their plants eventually grow bigger. They are either tossed directly into the compost, or are cheaply sold in bundles at farmers' markets. They make a great garlicky pesto and can be used in place of garlic and/or onions in pretty much any recipe.
This recipe makes a thick puréed roasted tomato sauce that is deliciously rich and flavourful without the addition of butter or cream (it's actually vegan). It's one of those mouth-watering recipes that tastes like it has been simmering away for hours and hours, even though it hasn't. It's great on top of any pasta and can be used in place of regular tomato sauce in any recipe.
The recipe below makes a double batch of sauce. It will easily coat two (454 grams) boxes of pasta with a bit leftover to serve on the side. It freezes very well, so freeze half of it for later use if you don't need it all right away. Also, since garlic scapes have a short season, you can make a few batches of this sauce when they are in season and freeze it all to enjoy later in the year.
However, this sauce is also very versatile. If garlic scapes are not in season and you want to make it, use a roughly chopped onion (or a few shallots) and a few whole cloves of garlic in their place. You can also substitute chopped carrots or a chopped fennel bulb for all or 1 of the peppers. It's also a great way to use up odds and ends (or small pieces of veggies) in your fridge like zucchini, eggplant, and cabbage. Just throw them in there with everything else – it can't be bad.
Roasted Garlic Scape Tomato Sauce 
Adapted from Food Network Canada's Greta & Janet Podleski
a bundle of garlic scapes (about 8-10), trimmed and roughly chopped (they have a bit of a woody end like asparagus that you can snap off and discard and also discard the fibrous bulb)
2 peppers (red, orange or yellow), roughly chopped
6 medium sized vine-ripened tomatoes, cut into 6 wedges each
2 Tbsp. olive oil
2 Tbsp. balsamic vinegar
1 (675 ml) jar of tomato passata
2 cups of vegetable stock
1 Tbsp. herbes de Provence (or 1/2 Tbsp. dried basil and 1/2 Tbsp. dried oregano)
1/8-1/2 tsp. red pepper flakes (depending on your spice preference)
Preheat oven to 425 degrees F. Line a large baking sheet with parchment paper. The baking sheet should have a rim on it because the vegetables will release their juice while cooking and be sure that the parchment paper goes up along the sides making for an easy clean up.
Place the garlic scapes, peppers and tomatoes on the baking sheet and drizzle with the olive oil, balsamic vinegar and some salt and pepper. Using your hands, mix the vegetables well to coat.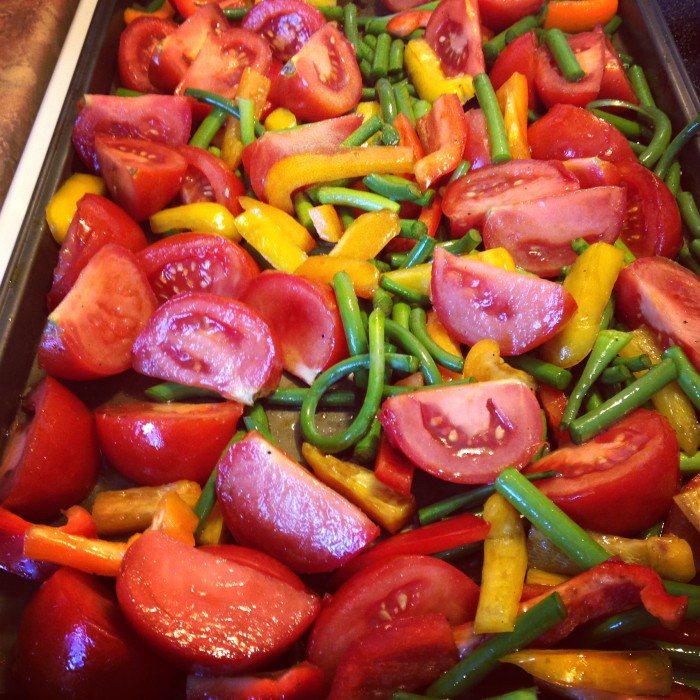 Roast the vegetables for 1 hour. When they are done, remove them from the oven and let them cool on the pan for 10 mins. At this point, they should be cool enough to handle and the tomato skins should be a bit looser. Remove and discard all of the tomato skins.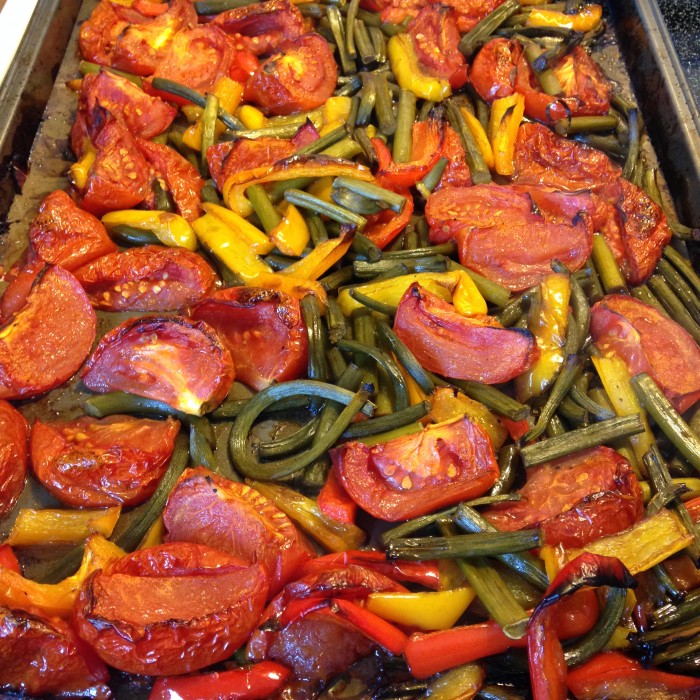 In a large pot, add the roasted vegetables, the tomato passata, the vegetable stock, the herbes de Provence (or basil and oregano) and the red pepper flakes. Bring to a boil, reduce the heat to low and simmer the sauce, covered, for 25 minutes, stirring occasionally.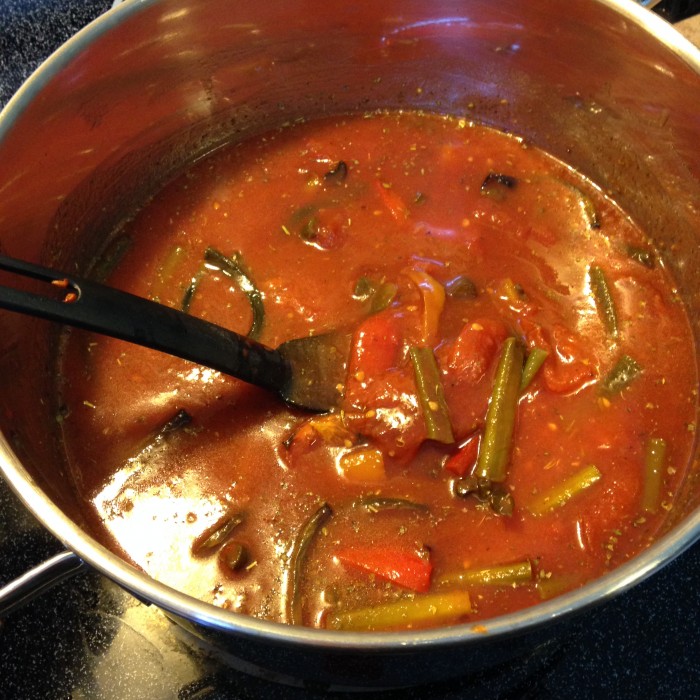 Using an immersion blender, purée the sauce until completely smooth. The sauce will be thick and rich and coat the back of a spoon. Add salt and pepper to taste.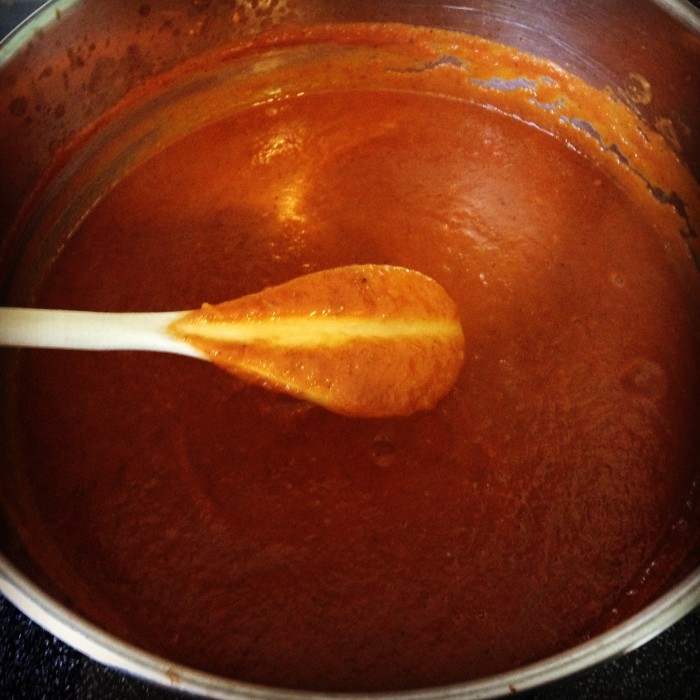 Serve over pasta or in place of regular tomato sauce in any recipe.