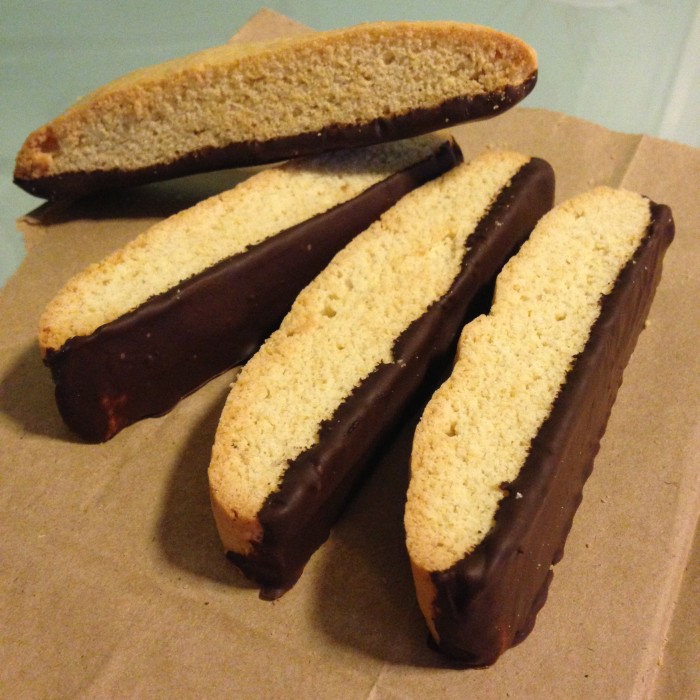 I bake biscotti for Jay, but I haven't always.
On summer vacation, we stay at my parents' house in Sault Ste. Marie, ON. There's something about staying with my parents that's so relaxing (most of the time).
Among the amenities like crisp sheets, hundreds of pillows on each bed, home-cooked meals, and a cute little cottage on St. Joe's Island we can visit, they have a Nespresso station. I call it a station because it has everything you need to make a great cup of coffee. Even in their tiny galley kitchen, this station includes a Nespresso Pixie machine, a Nespresso milk frother, a huge assortment of Nespresso capsules, a few different types of sugar, a teeny pair of tongs to pick up a sugar cube with, a jar of tiny spoons, small cups for short espressos, tall cups for long espressos, and little plates for under your espresso cup for your dirty spoon to rest or for a treat (like biscotti) that they conveniently always have in a tall glass jar. The biscotti are store-bought and individually wrapped, but Jay loves them.
His morning at my parents' house always starts with an espresso and a biscotti and sometimes a croissant that my mom found out he loves years ago and always seems to have when we're visiting. He calls it his "European breakfast" which is funny because I have never seen him eat any other type of breakfast. He doesn't enjoy breakfast. He passes on pretty much everything in the morning except coffee. He will sometimes eat something small later on and he will sometimes tolerate brunch (even more so if there's a choice of lunch instead), but breakfast and breakfast-type food have never been his thing.
In fact, if I know he's not going to be eating supper with us, I usually make French toast or pancakes or omelettes for supper. It's a such a treat. I often wonder how often I would just make breakfast for supper if Jay actually enjoyed breakfast-y food. It would probably be pretty pathetic. This blog would have two sections: Breakfast and Brunch.
So, as we were packing up to come back to real life in Ottawa after this year's summer vacation, my dad handed Jay a few boxes of his favourite brand of biscotti that you can only get State-side. He. Was. Thrilled.
Back in Ottawa, I casually told Jay that I knew how to make biscotti after hearing him complain about how he would have to ration the few boxes he had out over the year. He actually couldn't believe what I was saying. I think he was more excited about this statement than anything I have even said to him ever before.
When he was down to his one last boxed biscotto, I made him a fresh batch of these chocolate-dipped "twice-cooked/baked" Italian cookies. Little did I know that I would now have to do this for the rest of my life.
The first few batches I made were good, but didn't have that really hard crunch I was looking for. Jay also is very particular about the way the biscotti hold up when being dipped in coffee. He likes when they soak up his espresso without completely falling apart. After a few more tries, I stopped at this recipe which according to Jay, is "perfect".
So like I said, I bake biscotti for Jay. Now, THAT is romance (and also a bribe when I need him to help me with computer stuff).
Chocolate Dipped Biscotti 
Inspired by Toni Oltranti
2 1/2 cups flour
1 1/2 tsp. baking powder
1/4 tsp. salt
1/4 cup butter, room temperature
1 cup of sugar
3 Tbsp. brandy (my favourite), Kahlua, amaretto, Bailey's, bourbon, Grand Marnier, rum, cognac, or scotchy scotchy scotch (Pick one that you enjoy because you can taste it in the finished biscotti. You could also just use orange juice or strong coffee)
1 tsp. vanilla extract
1 tsp. almond extract (optional)
2 eggs
8 ounces of dark or semi-sweet chocolate, chopped or 1 cup semi-sweet chocolate chips
Preheat the oven to 325 degrees F. Line 2 baking sheets with parchment paper.
In a medium bowl, stir together the flour, baking powder and salt. Set aside.
In a large bowl, stir together the butter and sugar using a spatula until combined. (You are not trying to cream them together until light and fluffy like in most cookie recipes, so there's no need to use a mixer). Add the brandy, vanilla extract and almond extract (if using) and stir. Then, add the eggs, one at a time and stir.
Add the flour mixture to the butter mixture and stir just until combined. The dough will be quite stiff.
Divide the dough in half and on the parchment-lined baking sheets form two 11 inch long, 4 inch wide, 1/2 inch high rectangles. See picture. If you moisten your hands with a bit of water, the dough is easier to work with.
Bake for 30 minutes or until the loaves are a bit golden brown. Cool the loaves for 15 minutes on a rack.
Using a serrated knife (one of those small, serrated steak knives works best), cut a bit of the end off the loaves (eat them!) and then gently cut the rest into 3/4 to 1 inch slices. To reduce crumbling, let the knife do the work with a gentle back and forth motion, don't force it through. You should get about 12 biscotti for each loaf. If you would like longer biscotti, you can cut them on a 45 degree angle instead of straight across.
Place the biscotti back on the parchment-lined baking sheets, cut side down and bake for another 15 minutes, flipping once halfway through.
Let cool completely.
Fill a small pot about 1/4 of the way up with water, bring to a boil and then lower heat to a gentle simmer. Place a metal or glass bowl on top of the pot making sure the bottom of the bowl doesn't touch the water. (The bowl should be wide enough at the bottom to fit the length of the biscotti). Add the chocolate pieces to the bowl and stir until melted. Turn the heat off, but keep the bowl over the water so that the chocolate stays nicely melted while dipping.
Dip the bottom of each biscotto in the melted chocolate. Over the bowl, use the back of a butter knife to gently smooth the chocolate and take some of the excess off. Place each biscotto, cut side down, back onto the parchment-lined baking sheets. Allow the chocolate to set. You can put them in the fridge for 15 minutes to set the chocolate quicker.
Enjoy with a great cup of coffee!